Monday, August 30, 2010
Complicated Stories of What Belonging Is About

When Barbara Yngvesson adopted an infant son in 1981, she found that the process required a fundamental cut-off of the birth family, legally, despite it being an open adoption. Even the birth certificate was altered to reflect the names of the new parents.

Yngvesson says she felt, "They were basically erased."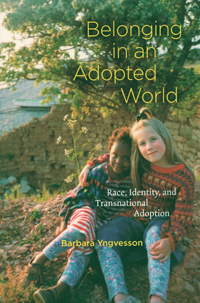 As a mom, she enabled her son's birth mother to stay connected to his life, circumventing those closures. As an anthropologist, she had discovered issues she would continue to explore in her research.

The Hampshire College professor's latest book, published by the University of Chicago Press, is entitled Belonging in an Adopted World: Race, Identity, and Transnational Adoption.

While the prologue and epilogue do touch on Professor Yngvesson's autobiographical narrative, which involved a domestic adoption, at the heart of Belonging in an Adopted World is an examination of transnational adoptions, both on a national policy level and an individual level.

From the 1990s to the first years of the 21st century, transnational adoptions increased at an astonishing rate worldwide, with children usually moving from poor nations to the affluent West. Professor Yngvesson explores the consequences and implications of this new form of social and economic migration.

Sweden, one of the nations that is a focus of Yngvesson's research, has been a leading country in the promotion of transnational adoption. The government underwrites adoption expenses and advocates for ethical adoption practices through the work of a national oversight committee. Transnational adoptions have been understood in Sweden as an experiment in the creation of a multicultural society, through adoptions from Africa, Asia, and Latin America, for example. At the same time, epidemiological research in Sweden suggests that adoption, like other forms of transnational migration to Europe and the United States, poses its own set of challenges to belonging.

Belonging in an Adopted World includes a series of interviews with transnational adoptees in their teens and twenties that explore these challenges. The interviews focus on the adoptees' experiences of growing up in Sweden or the United States, their returns to the birth country to visit orphanages or hospitals where they spent the first days or months of their lives, and the challenges of establishing and maintaining relationships with their birth families.

These narratives reflect tensions involved in adoption policies that legally erase one set of belongings, however ephemeral, in order to promote the complete absorption of a child into a new place. The cut-off history "pulls people back with the promise that they can find themselves," yet in this very moment of self-discovery they may also find a more complex sense of belonging that is shaped by their adoptive history. "These are complicated stories of what belonging is really about," Yngvesson says.