Monday, October 18, 2010
A celebration at the site of the new Enfield Greenhouse Mod could have been a symbol of the entire Family, Alumni and Friends weekend.

The gathering, held to mark the progress of three years of student-led effort to rebuild the iconic greenhouse at Mod 46, drew in supporters that ranged from alums and trustees to parents, faculty, and staff, to the numerous students who have pushed the project forward and helped raise $122,000 of the necessary $150,000 needed to reach their ambitious goal.
As was pointed out numerous times, the Hampshire community, working together, made it possible.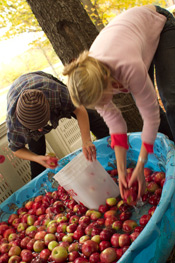 "The donations we've been getting have been really heartwarming," said Emily Ryan 06F, who expects the greenhouse will be the location for many campus activities. "We hope this is just the beginning of what will be a really amazing program."

For the 2010 Family, Alumni and Friends weekend, which ran from October 15 to 17, the celebration actually did kick off an amazing program of events, held both on campus and in the towns surrounding it.

For families, it was a rare opportunity to get a first-hand glimpse of campus life. Classrooms were open to visitors all day on Friday.

A panel on Division II studies, led by cognition and development professor Laura Wenk and student panelists Annika LaFave 08F, Victoria D'Elia 08F, and Arielle Soutar 07F, drew a rapt audience interested in how this portion of the Hampshire academic system worked.

"My view on Div II is that, when you come out of Div I, you have all these interests, and now you have to lump them into something coherent," said Soutar. "I also feel that Div II should be a time of exploration, and since you have two years to do it, you often encounter classes that open new avenues."

Wenk noted that the interests of students often inspire her and her colleagues. "Your children's work with us really affects the curriculum. So thank you for sending us students with such great ideas," she said.

Throughout the weekend, a theme of environmental consciousness tied many of the events together. A highlight was the dedication of the new solar canopy at the center of the Charles and Polly Longsworth Arts Village.
As Acting President Marlene Gerber Fried noted, the canopy "provides a visible example of Hampshire's commitment to sustainable energy development."

Congressman John W. Olver, who secured funding for the project in the FY10 Energy and Water Appropriations Bill, agreed. "This is a job well done," he said. "I'm proud of this project. Use it well."