Monday, November 8, 2010
As an Andrew W. Mellon postdoctoral fellow at Hampshire, much of George Gathigi's work involves introducing students to the cultures and languages of East Africa. Organizing Africa Day 2010—with its theme of Expressing Africa: Tongues, Tastes, and Trends—gave him and others an opportunity to showcase on campus some of that culture.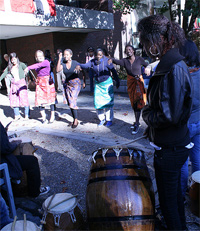 Said Gathigi: "It was a little bit of Africa right here. Students were able to learn about study abroad programs, to hear the music, read some of the literature, and connect with students who are from Africa."

The Five College West African Music Ensemble opened up the November 6 event with a drumming and dance performance in the Franklin Patterson Hall courtyard. A welcome address followed in the FPH main lecture hall, which included language performances by students of Smith College Swahili language mentor Agnes Kimokoti and a discussion of the Kenya-based NGO Africa Center for Engineering Social Solutions (ACESS).

Hampshire student Spencer Kuchle 08F first volunteered with ACESS shortly after graduating from high school. His mother, Mt. Holyoke College President Lynn Pasquerella, helped organize ACESS and she also spoke at Africa Day. Kuchle says that he now tries to help students who have never been to Africa prepare for volunteering there.

"You can't impose your knowledge. You've got to let communities respond to your information, try to form what you're doing around what the culture and community wants," Kuchle said. "We're going into communities and letting them decide what they need help with most."

Other interns shared their experiences during a panel presentation, Reflecting on Interning in Africa. Down the hall, professors Aracelis Girmay and Nell Arnold facilitated an informal African literature reading space. Books were dispersed throughout the room, and computers set up to display information about authors and their works.

An African language workshop, clothing demonstrations, and a dinner rounded out the event, which Hampshire student Lorraine Chilimanzi 07F was glad to see well attended by her classmates.

"In true Hampshire spirit, I think much learning takes place outside of the classroom," said Chilimanzi. "We need to take advantage of opportunities and learn what's going on."

The 2010 event marked the fifth anniversary of the annual Five Colleges Africa Day, and was the first time the event had been held at the Hampshire campus.