Wednesday, December 1, 2010
As the cook demonstrates how to sauté freshly rolled potato gnocchi, the fragrant aroma of butter and sage permeates the kitchen with memories of warm home-cooked meals.

This isn't some televised cooking show I'm salivating over. It's a weekly occasion held in the Dakin House kitchen throughout fall semester, bringing together students, staff, and alums. Students learn basic culinary skills and, most importantly, eat some delicious food in the process.

The cooking classes are part of a new Student Life initiative to give students the skills to lead healthier lives. "You can't understand how to eat well if you don't know how to cook some basic meals," said Pam Tinto, assistant dean of students for campus leadership and activities.

Tinto imagined the program not only as a way to teach healthy eating and provide hands-on experience in food preparation, but also as a community-building activity. "We hoped to introduce and engage students, staff, and alums in a different and fun light," she said.

A second-year student taught the gnocchi class, but the program usually has alums, staff, or faculty leading demonstrations on anything from Latin salsa to tempeh.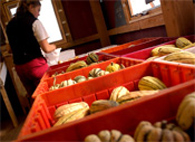 The cooking classes are based on a partnership with Hampshire's Community Supported Agriculture (CSA), highlighting vegetables that grow in the valley and curbing the amount of produce that, as Tinto says, "usually composts in people's refrigerators."

Those leading the classes review their recipes for possible ways of incorporating CSA produce, while also showing students how to utilize some mystery vegetables. "You may not know what to do with that kale, but we'll help you find a way," said Tinto.

Although this comprehensive program has many far-reaching goals, it culminates in a delightful simplicity as students taste what they've just prepared. It offers a feeling of accomplishment and community, wrapped in the experience of culinary goodness.