Wednesday, December 1, 2010
Experience Africa: On November 6, Hampshire College hosted Africa Day 2010, an annual Five College event.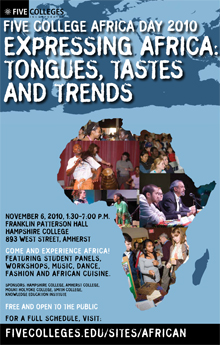 This year's theme was "Expressing Africa: Tongues, Tastes and Trends" and the event was held in Franklin Patterson Hall on the Hampshire campus from 1:30 to 7 p.m. Admission was free and the public invited.

Africa Day is organized by the Five Colleges African Studies Council to promote interactions, study, and research of Africa among Five College students. The event provides a forum for students to share experiences related to Africa, obtain information, and showcase African presence in the Valley.

Students present their research on various topics, study abroad experiences, work among communities and nonprofit organizations, and other projects. There are panel presentations, workshops, table displays, African cuisine, and dance.

Africa Day provides a space where students who are interested in Africa can obtain information on opportunities and courses offered in the Five Colleges. Different Five College offices, student organizations, and education abroad providers as well as external organizations participate.

For more information, please email ggathigi@hampshire.edu or jeremymiller13@gmail.com.