Wednesday, December 1, 2010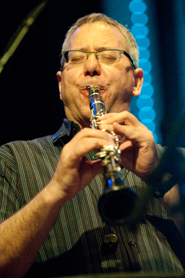 "Labels aside, what is jazz? What is Jewish music?" asks Marty Ehrlich, associate professor of jazz and contemporary music.

In his new album on the Tzadik label, Fables, the Guggenheim Fellow, who has appeared on more than 100 CDs and performed with everyone from Julius Hemphill to the New York City Opera, says he "gives some answers and asks some more questions."

This is Ehrlich's second recording in the Radical Jewish Culture series on Tzadik. The first was Sojourn, released in 1999.

For Fables, the clarinetist, saxophonist, and flutist collaborated with Hankus Netsky, founder of the Klezmer Conservatory Band and a former Hampshire adjunct professor; world-renowned jazz bassist Jerome Harris, also a former Hampshire adjunct; and tubist Marcus Rojas. The result: ten songs that seamlessly combine (or prove how little difference there can be between) jazz and Jewish music.
Fables >>

One track plays off of a song by Cantor Pierre Pinchik, another off a piece by the Yiddish Theater composer Joseph Rumshinsky. The other eight are new compositions by Ehrlich.

"Scrolls" is a series of three tracks spaced evenly through the CD. In his liner notes Ehrlich links them with "the moment in the synagogue service where the Torah is opened, its parchment now in the light and air, and then when it is tightly closed, the text rolled further on into the life of the telling."
Listen to "Track 4: Wednesday's Waltz"
Musical background
Professor Ehrlich's relationship with music started at a young age. Growing up in St. Louis, Missouri, in the 1960s, he encountered the Black Artists Group. He "began to meet poets and painters and hear musicians," who introduced him to "a whole charged artistic and political world," he recalls.

When they introduced him to New Jazz, he was hooked, and "began working from that innovative moment" on both the clarinet and the saxophone. Later, at the New England Conservatory (NEC), he says, "I worked my way back through the history of African-American and Euro-American music, Indian and Arabic and Japanese music, the whole process that never ends."

Ehrlich met Netsky and Harris at NEC. He and Harris have worked together many times since; this is the first time that he and Netsky have worked together on a CD.
Performance schedule
In addition to teaching at Hampshire, Ehrlich maintains an ongoing performance schedule. He toured in Europe for a week in October with his Rites Quartet, and will perform in late November with the New York Composers Orchestra at the Guimaraes Festival in Portugal. On December 2, he will perform at Roulette in New York City at the Muhal Richard Abrams 80th Birthday Celebration.

Last year, the Marty Ehrlich Rites Quartet released a new album, Things Have Got To Change, on the Clean Feed label. The Ray Anderson/Marty Ehrlich Quartet also has a new CD, Hear You Say (Intuition 2010, available on iTunes and Amazon), recorded live at the Willisau Jazz Festival in Switzerland. That group was the first to play one song that ended up, in a very different form, on Fables. "I like to take the same piece and try it in different contexts, both musically and socially," Ehrlich explains.

"I feel that on Fables I found a rich place of 'in the moment' narrative in my improvisations," he continues. "The musicians joining me all shared this interest. The compositions I wrote present different contexts or reference points to do this storytelling.

"This is a big part of what I meant in my liner notes in saying that 'I hope this music moves for you from the particular to the universal in a way that parallels your work in the world.'"
Photo credit: Maarteen Jan Reider