Friday, December 3, 2010
Prescott Tavern is becoming a place where students can do work, take breaks, and regularly see art—or show their own.

The building, tucked in among the Prescott House mods, was years ago an actual tavern, and then a fully functioning food service operation.

Now the first floor has been converted into a gallery called TavernArt, where students can show art, play live music, or come enjoy both. "The gallery has been a huge success," says Pam Tinto, assistant dean of students for campus leadership and activities.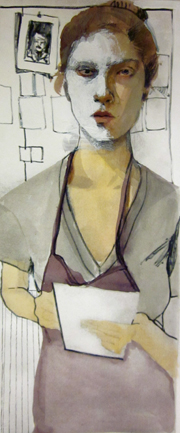 "It's an unexpected space," says Phoebe Berkel 07F. "Anything we can do to use it is a good use." She and Ana Keck 08F showed their work at the second of three TavernArt exhibitions during fall semester.

Each exhibition has a reception, where the artists discuss their work, and coffee and pastries are free. Although Ella Fitzgerald was playing at Berkel and Keck's reception, most shows have live music performed by students.

Tinto also hopes students will use the rest of the Tavern to study or hang out. "The light up here is amazing during the day, so we're getting more plants," Tinto said, on the third floor, taking a quick break from Berkel and Keck's reception. She also pointed out the new, comfortable seating. Meanwhile, students played foosball and pool under a huge magnetic poetry wall on the second floor.

Coffee, tea, and hot cocoa are sold for 50 cents (a paper cup costs another quarter). During spring semester, Campus Leadership and Activities will work with Mixed Nuts to sell other snacks at the Tavern.
Celia Kitchell 07F, who serves as the Tavern's art curator, is also optimistic about putting the building to use. But, she says, "We still need to work on getting the word out there.
"We're using the space, we're getting really good art, and trying to find out what really interests people; we're open to suggestions and ideas and submissions."

The Tavern is open from 9 a.m. to 2 a.m., Sundays through Thursdays. Anyone in the Hampshire community who would like to show art, perform, sell arts and crafts, or submit ideas for ways to use and improve the space can email tavernart@hampshire.edu.

Final Event for Fall 2010 Semester
December 10, 3 p.m. to 6 p.m. (the last day of classes): Students, staff, and faculty are encouraged to sign up to sell arts and crafts; information is being sent out to the local community to bring in shoppers from outside of the college. There will be food and live music. "It's going to be huge," says Tinto. "We have high hopes."

artwork by Anna Keck and Phoebe Berkel