Wednesday, December 15, 2010
The Lemelson Center at Hampshire College announces the first recipients of student grants and mentoring assistance awarded through the Social Venture Fund and Advisory Network.

Stewarded by Hampshire's Lemelson Center, the Social Venture Fund and Advisory Network supports students interested in pursuing enterprises or projects with potential for positive social impact. The fund provides monetary grants and the advisory network connects students with professionals and entrepreneurs who can offer guidance and mentorship for a social enterprise or social action project.

Awardees' projects represent a diverse cross-section of student work campus wide and highlight the strong commitment of Hampshire College students to effecting change in their local communities and far beyond.

Grant recipients:

Iris Arieli
Percussion Workshops for At-Risk Youth in Springfield's North End
An activist and percussionist from Israel/Palestine, Arieli will partner with two youth groups, Generaciónes and First Generation. Arieli will use percussion teaching to empower young people who may not have been exposed to the arts as a tool to express their emotions.

Ava Luther
Public History and Applied History of Clothing and Needle Arts
In addition to mastering the skills of garment construction, Luther has studied the history of clothing, particularly its intersection with culture. For her Division III (senior) project, Luther seeks to communicate the importance of historical clothing, and what we can learn through it. She has organized several classes as well as an end-of-year exhibit.

Diana Khalsa Brown
Winged Hearts
Through classes on healthy and affordable cooking and nutrition, this program will educate young women about maintaining their health and bodies. It will also help them develop tools to teach others. In addition, Brown is developing a line of healthy vegan and gluten-free snacks that she plans to offer for sale on the Hampshire campus.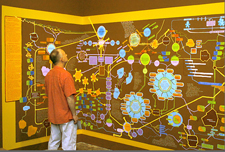 Helyx Horwitz
Re-Mapping Our (his)Stories
Horwitz's Division III project strives to reverse the tradition that "history is written by the winners." Participants will examine their community history and its presentation through creating, archiving, mapping, and reframing histories. The project will engage youths to create, present, and archive media representations of their own histories.
Freya
Roe
Prehistoric Scandinavian Archaeology Exhibit
Roe's Division III is confronting two social challenges: the stereotyping of Viking culture as overly violent, and the inaccessibility of the subject of archaeology to non-academics. To break these barriers, Roe is coordinating a display of a prehistoric Scandinavian life, including farming, cooking, crafting and building, using reproductions of artifacts crafted by local artisans from the Hampshire community.
Emily Ryan
Building a Portable Gynecological Exam Table
Ryan traveled to El Salvador with Basic Health International, a nonprofit run by Hampshire alumna
Dr. Miriam Cremer 87F
. Although many gynecological exams were performed in patients' homes, Ryan noted that the collapsible examination tables were heavy and not easily transported. She and other Hampshire students developed designs for a portable and durable exam table. Several prototypes later, the design is a lightweight, collapsible chair that can be manufactured on site from locally available materials. Using these chairs, Ryan hopes to increase the number of women screened and decrease cervical cancer.
Three projects will receive advisory network mentoring:Ariana Adams-Gregg
Permaculture and Sustainably Designed Community Food Garden
Adams-Gregg's project proposes a community garden in a Section 8, low-income housing apartment area where area residents can grow their own food. The community garden will also serve as a community space and a forum for food-based education on healthy eating and nutrition, canning and preserving, and herbal remedies.
Jessica Bass, Holly MacDonald, Phoebe Smolin
Ladybug Bakery
These students plan a space on campus for people to get healthful, freshly baked goods. The Ladybug Bakery will provide an atmospheric space to relax and escape from the demands of academia. It will be a cooperative bakery, employee owned and operated. It will promote sustainable eating habits, offer vegan and gluten-free options, and donate leftovers to the Amherst Survival Center. It will also work with other organizations on campus to build strong community relationships around food choices.
Catherine Craig and Greenhouse Mod 46
Continuing the Greenhouse Mod Tradition
In the past, Hampshire has offered student housing with an attached greenhouse. This project aims to carry on that tradition by rebuilding the greenhouse, which will be used for growing plants, academic and recreational activities involving plants, and community-wide education about growing food and working with energy efficient systems.
The deadline for applications for the spring funding cycle is February 25, 2011. Hampshire students interested in applying in the spring should contact
hampshiresvf@hampshire.edu
.
The Social Venture Fund and Advisory Network continues to seek financial support and mentors. Individuals or organizations interested in collaboration should contact Roxanne Finn at
rlfLM@hampshire.edu
or 413.559.5613.