Friday, January 28, 2011
Listen to interview on WFCR, local NPR affiliate >>
Read story in Daily Hampshire Gazette >>

During January term, 16 students working through Hampshire's Lemelson Center will design and create a solar charging station on campus. Beth Ferguson 96F will co-teach the Jan term course with applied design professor Donna Cohn. Ferguson is the inventor of the SolarPump Charging Station.

Ferguson invented the SolarPump while she was pursuing an MFA in design at the University of Texas. It is now promoted through her company, Sol Design Lab, where she is founding director, designer, and educator.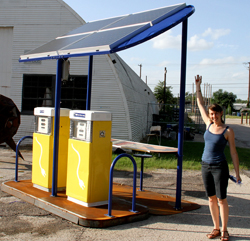 The SolarPump was born out of administrative confusion. In Austin, Ferguson commuted using an electric bicycle. "The electric bike was legally a bicycle, so campus security asked me to park it at a bike rack. I started to get fines for parking a gas-powered vehicle at the bike racks," she said. "Then, I started to get fines for bringing a gas-powered vehicle into my studio to charge."

The confusion gave Ferguson the inspiration to design a public energy station for electric bicycles and other electronics.

SolarPump stations are made largely from recycled materials. In Ferguson's prototype, a refurbished vintage gas pump is set beneath a roof with solar panels. An electronic device or vehicle can be charged in the shade by connecting it to a battery reserve inside the pump.

"I use a gas pump because it's water-tight and I like the humor of a gas pump being used to promote green energy," Ferguson said. The stations also include seats and tables made from street signs.
The solar charging station to be built at Hampshire will not use a gas pump. Instead, students enrolled in Cohn and Ferguson's class will choose what they recycle or build to house the battery.

The music festival circuit

Three of Ferguson's stations were commissioned for the South by Southwest Music Festival in Austin after a representative happened to see her MFA thesis presentation on the SolarPump. Since then, Ferguson has added stations to high-profile music festivals like Rosklide in Denmark, Lollapalooza in Chicago, and Coachella in Indio, California. "Music festivals see it as an asset to make their festivals green, and festival goers see it is an oasis to charge their phone," she said.

Returning to where it all began

As an undergrad at Hampshire College, Ferguson studied ecological design and environmental studies. For her Division III (senior) project, she worked with Green Map, an organization that produces maps with a language of icons that represent good (e.g., public gardens, solar energy sites) and bad (a toxic waste site) ecological locations in a city. She mapped Holyoke, MA.

Ferguson credits Hampshire's educational approach with giving her the ambition that has informed her career: "My foundation from Hampshire has led me to do research and not wait for others. To go out there and be a problem solver, to be entrepreneurial and have a firm belief in solutions for urban sustainability."

Course description

Urban Eco-Design: Solar Charging Station Design/Build for Campus

What role can design play in finding or promoting solutions to climate protection, clean mobility, renewable energy, waste reduction, and social equality? This course is for students interested in exploring the relationship between design, public art, urban sustainability, and renewable energy. The major focus will be to collaborate in the design and fabrication of an off-the-grid solar charging station for the Hampshire campus. Focus teams will include: station architecture, wiring/engineering, furniture design, info-graphics, and site management. Together, we will address the unsustainability of the current petroleum-based energy production and distribution system with creative and innovative solutions. For example, urban solar charging stations have the potential to help our society transition from gas-dependent cars to electric vehicles by creating an engaging and evocative connection to the way we use electricity. We will cover the basics of small-scale solar energy production, digital design methods, and prototype fabrication with research and hands-on workshops.