Thursday, February 3, 2011
Season One: Food, Farm, Sustainability

AMHERST, MA—Hampshire College announces a new summer program in Food, Farm, and Sustainability.
Students enrolled in the program will study ecological and social systems in which food is central.

This year's program is the pilot for what may grow into a full-fledged summer school.

Faculty from across Hampshire's curriculum will teach in the program. Broad areas of study will include food science, soil science, sustainable agriculture, culinary arts, nutrition and public health, botany, animal behavior, land use history, and food and justice.

While the focus of the intensive summer session is academic and students will spend part of each weekday in a classroom or laboratory, the program will not be abstract—nor for late risers, says Alan Goodman, vice president of academic affairs and dean of faculty.

Students will get up early to milk cows and tend to other farm animals, working alongside Hampshire's farm manager Leslie Cox. They will also learn about growing vegetables as they plant, till, and cultivate alongside Nancy Hanson, Community Supported Agriculture (CSA) manager.

As the summer program expands in the future, offerings may extend beyond food, farm, and sustainability, with topics and areas of study that range across academic disciplines, Dean Goodman says.

Why food?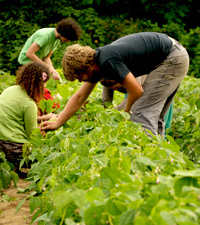 "Food is a critical point of connection between the local and the global, between biology and culture, between the past, present, and future. Food is scientific and political," said Goodman.

Food also connects prominent ongoing research and resources at Hampshire, said microbiologist Jason Tor, who will direct the academic portions of the program.

"We have a college Farm Center that is committed to sustainable production. Our faculty is already engaged in research in many of these areas," said Professor Tor. "The new summer program will enable us to extend academic work into the main growing season, providing a unique program for students excited about sustainable agriculture."

Tor credits third-year student Evan Thaler-Null, in particular, for providing leadership and assistance in shaping the program. Thaler-Null will be an intern this summer.

"Working with us to develop the summer food program is an integral part of Evan's Division III [senior] project. This is a great example of how students' enthusiasm and efforts contribute to shaping their academic program at Hampshire," said Tor.

"Alumni College" Theme, Too

The Food, Farm, and Sustainability summer program will coincide with, and be enriched by, the College's first "alumni college." A weekend forum for all Hampshire alumni and families is scheduled for June 10-12, 2011, and focuses on the same themes. Forum speakers will include Hampshire professors and distinguished alumni working in sustainable agriculture and related areas.