Tuesday, February 15, 2011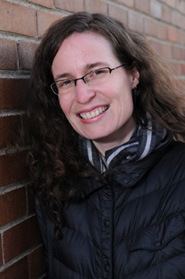 Fiona Otway 96F is having a good winter. A film she edited, Hell and Back Again, has received an Oscar nomination for Best Documentary.
The film previously won the prestigious World Cinema Jury Prize at the 2011 Sundance Film Festival.

Hell and Back Again is a feature-length movie about U.S. Marines in Afghanistan, "shot in a very intimate style," she says. Director Danfung Dennis was embedded with marines in Afghanistan, documenting their home lives as well.

For Otway, this is the most recent highlight in a successful career making documentaries.

Otway grew up in a suburb of Seattle, a town she describes as conservative.
"I needed to get out, and Hampshire was a beacon on the horizon," she says. "It just seemed like a place where I could really grow as a person, and the educational philosophy was exactly in line with what I was interested in.

"When I got there, I was just blown away by all the amazing people."

Otway studied cultural anthropology, critical social theory, international relations, photography, and film at Hampshire.

For her Division III (senior) project, Otway made a documentary applying critical social theory to "questions about what it means to work for the 'common good' and try to make the world a better place," she says. "It was pretty abstract and idealistic—I learned a lot of important lessons about how to make movies differently after that," she quips.

After graduating from Hampshire, Otway returned to Seattle and interned at the 911 Media Arts Center. She eventually joined the staff at 911, teaching video production while doing freelance editing and cinematography. "That's where my career really launched," she says.

Hell and Back Again is not Otway's first award-winning film. She won the Best Documentary Editing Award at the 2006 Sundance Film Festival for her work on Iraq In Fragments, co-edited with Billy McMillin and James Longley. That film and another co-edited by Otway with James Longley, Sari's Mother, were nominated for Academy Awards.

In light of her professional accolades, Otway views filmmaking as a personal experience. "I always want to feel that my work has its own integrity and I want to feel proud of it on my own terms," she says. "Filmmaking is unbelievably hard at times, so you really have to find validation deep inside yourself first."

For Otway, her Hampshire experience provided her with that ability, and initiative. "Hampshire really taught me how to dream up my own projects and go out there and pursue them, to be relentless," she says. "You have to go out there on your own path and figure out your own journey."

Otway's journey now includes one more honor.