Wednesday, March 2, 2011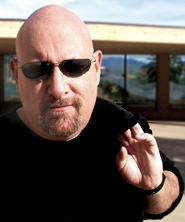 From Jeffrey Tuchman 73F's perspective, his Division III is still happening. He has spent the last thirty years making documentaries, a career path he says mimics Hampshire's Divisional system. "I think that documentary filmmaking is one big long Division III," he says. "You're dealing with a blank slate, there's no formula, and every project is different."

Tuchman entered Hampshire planning to become a doctor, like his father. His Division II project focused on the sociology and ethics of medicine. It wasn't until he began work on his Division III that he caught the film bug.

"I had a friend who went to Amherst College," he says " He was making a documentary, and I used to stop by his editing room everyday. I got completely sucked into the process of that kind of storytelling." The duo came across a grant opportunity from the U.S. Department of Labor for a film about a career opportunity program for at-risk youth. "Knowing absolutely nothing, we decided to apply for it, and we got it," he says.

The resulting film became part of Tuchman's Div III project, and launched him into the world of filmmaking. After graduating, he moved to New York, and worked for a nonprofit called Public Agenda, a nonpartisan organization seeking to educate political leaders and the public on public policy issues.

"They decided the best way to address these issues was to make films.
I didn't know much about filmmaking, but they knew nothing, so I became the resident filmmaker," he says.

Tuchman worked at Public Agenda for ten years before he decided to go independent. His first independent project was The Man From Hope, a biography of then-presidential candidate Bill Clinton. The film was shown at the Democratic National Convention. "I don't know how much it affected the campaign, but for me it was life-changing," he says.

With more than 30 films to his credit, Tuchman considers himself lucky. He has worked for major networks such as PBS, The History Channel, ABC, CBS, and HBO. He won an Emmy and a Peabody for his 2005 film Voices of Civil Rights. He is currently working on multiple projects, including Testimony, a documentary about his father, Marcel Tuchman, a Holocaust survivor.

Filmmaking continues to be a personal process. "I get to go into places and the lives of people I would never meet, never get to know. I would never have the intimate experience of their lives that I get making a film," he says.