Tuesday, March 8, 2011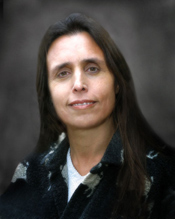 Environmental activist and former Green Party vice presidential candidate Winona LaDuke will deliver the 2011 Hampshire College Commencement keynote address.
Commencement will be held May 21 at 11 a.m. on the Harold F. Johnson Library Lawn.

LaDuke is internationally recognized for her work on issues of climate change, sustainable development, renewable energy and food systems, and environmental justice in Native America. She lives and works on the White Earth reservation in northern Minnesota.

She is program director of Honor the Earth and founder of the White Earth Land Recovery Project, one of the largest reservation-based nonprofit organizations in the United States. She works nationally and internationally to protect Indigenous plants and heritage foods from patenting and genetic engineering.

LaDuke's many honors include induction into the National Women's Hall of Fame in 2007, and recognition as Ms. Woman of the Year in 1997. Among the numerous awards she has received are the Thomas Merton Award and the Reebok Human Rights Award, with which she began the White Earth Land Recovery Project.

She holds degrees from Harvard and Antioch Universities and has written extensively on Native American and environmental issues. She is the author of five books, including Recovering the Sacred and a novel, Last Standing Woman.