Wednesday, March 9, 2011
Alex Torpey, a May 2009 graduate of Hampshire College, has announced his candidacy for Village President of South Orange, New Jersey.

Torpey says his experience as chair of Hampshire's Community Council for two years greatly influenced him. "The process definitely illuminated many things," he recalls, "such as how to build a team and work toward goals when not everyone is initially on the same page."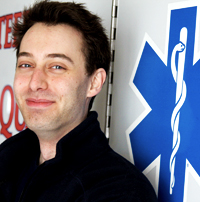 His work with Hampshire's Emergency Medical Services through Community Council was one of the things that led him to become an EMT with the volunteer rescue squad in his hometown. It added to his perspective on public safety issues.

He is currently attending John Jay College of Criminal Justice, completing a master of public education program in emergency management and counter-terrorism.

He describes his campaign for village president as based in fundamental issues of grassroots policy-making. "I think it's time that people, especially a younger generation, realize how much change we can make if we really dig in and push for it," he says.

"I hope to make the campaign process as open and interesting as possible," he says, referencing his use of social networking sites and video blogging. "There are new tools at our disposal that allow people to communicate much more based on the content of their ideas rather than their stature in society."

At Hampshire, Torpey received an Earl Ubell Grant in 2009 to complete Division III (senior project) research on contemporary cultural and social taboos around alcohol policy in the United States. In his final semester, he helped organize a conference discussing issues of drinking on college campuses nationwide and brought together governance leaders from throughout the Five College consortium.

Alex Torpey's website >>