Wednesday, March 16, 2011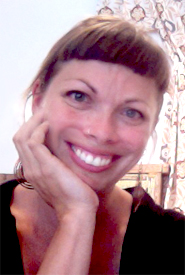 Mary Moore Cathcart 87F doesn't like shopping, but she's willing to provide an environment for those who do. Cathcart has run The Claw Foot Tub, a home goods store with an emphasis on fair-trade products, in Amherst, MA, since 2006.

"One of our main missions is to help people understand you can make socially and ecologically sound choices in what you're buying for your home," Cathcart says.

Cathcart studied race relations at Hampshire. For her Division III (senior) project, she studied the effect of the Civil Rights movement on race relations in Indianola, Missipssippi, a town made notorious by the white supremacist group The White Citizens Council. "My premise was that it hadn't really changed things very much," she says.

After graduating, Cathcart earned a master's degree in African studies from Cornell University, then taught race, racial identity, and ethnic studies at the University of Maine. In 2000, she began work as a freelance residential designer in addition to her teaching work.

She returned to Amherst in 2003, with the hope of pursuing a doctorate within the Five Colleges. Instead, she ended up founding The Claw Foot Tub.

As a designer, Cathcart found herself frustrated with the selection of materials she could purchase for clients. "I couldn't find things that were really eco-friendly or fair trade," she says. "Trying to renovate a whole house, knowing that everything is probably made by children, is nauseating."

The dilemma became the genesis for the store.

Cathcart describes The Claw Foot Tub as a more comfortable alternative to large stores. "It doesn't feel like a big box store, it doesn't feel like a catalog," she says. "It has the feeling of home, it's very user-friendly."

Cathcart's background studying race relations gives her a unique perspective on the commercial process. "It's still racially-based, it just looks a little bit different than it did 400 years ago," she says. "The people who are making these products are not necessarily enslaved legally, but do they have access to good education, healthcare, and decent water?"

Hampshire's education system put Cathcart in the mindset of ignoring perceived boundaries. "Of course housewares are related to race relations and race," she says. "We have this notion that something theoretical and aesthetic can't be put together."

"They can," she says.