Wednesday, March 16, 2011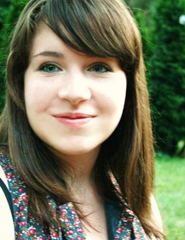 "It's going to be weird to look back on my career fifty years from now and realize I peaked at 19," jokes Charlotte Luks 09F. But the second-year Hampshire student does currently share an office with, among others, a European Court of Justice judge.

Luks is conducting a semester-long field study in human rights at the Katholieke Universiteit (K.U. Leuven) in Leuven, a city in the Flemish Region of Belgium. She works under the direction of Professor Geert van Calster, head of the university's department of international law, studying corporate culpability for human rights violations.

"Essentially, I'm looking for ways to make corporations responsible for the human rights violations they commit in countries with lax human rights policies," she explains.

Though a permanent resident of Rhode Island for the past 15 years, Luks is also a Belgian citizen, has family and friends in the area, and speaks Dutch, the language spoken in the Flemish Region.

She was able to study in Leuven thanks to the EuroScholars program, which supports North American college students conducting advanced research in specific European universities. Luks applied to the program after learning from Hampshire's Global Education Office (GEO) that K.U. Leuven was one of those universities.

Luks definitely appreciates the opportunity. "This program allows me to spend a semester doing research in a capacity that most people don't get to experience during their undergraduate studies," she says.

Hampshire law professor Flavio Risech, chair of Luks's Division II committee, sees her field study as part of an impressive trajectory. "Her being at K.U. Leuven happened because of how she developed intellectual interests and skills in her Div I year at Hampshire, and in the January term 2010 course I taught at The Hague," he says.

The EuroScholars program was also impressed with Luks, awarding her a merit scholarship that took her by surprise. "Anyone with a GPA above 3.7 is automatically entered into the running," she says. "Obviously, [at Hampshire] I don't have a GPA, but the program looked at my evaluations and decided they were good enough to rank at 3.7 or higher."

Luks says she misses Hampshire, but doesn't feel adrift in her independent work: "Hampshire definitely prepared me for this."