Wednesday, March 16, 2011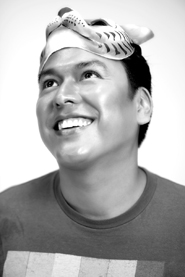 For Billy Luther 00F, all it took was a little push. During a moment of trepidation about finding funding for his first feature film, a Hampshire professor gave Luther some advice.

"She just took me aside and said, 'Stop struggling. Just go make your film,'" he says. "After I was told that, it totally made sense. I moved to LA and started developing Miss Navajo, my first film. It was life changing."

Luther transferred to Hampshire from Fort Lewis College in Durango, Colorado. Fort Lewis didn't have a film program, he says, "and I was yearning to get back into film."

Luther set to work on Miss Navajo with a shoestring budget. "I did as much fundraising as I could—the bulk of it was made on a borrowed camera," he says "There's a production company called World of Wonder. I scheduled my shoots whenever their specific camera was not being used for any other productions."

Miss Navajo is a story about a tomboyish Navajo woman, Crystal Frazier, who is competing in the beauty pageant the film takes its title from.

The finished product would go on to become an official selection of the Sundance Film Festival in 2007. It was awarded the Special Founders Prize at Michael Moore's Traverse City Film Festival that same year.

"Miss Navajo launched my career as a working filmmaker," Luther says. He is currently developing Miss Navajo into a musical.

In January 2011, Luther's documentary, Grab, was an official selection at the Sundance Film Festival. The film documents the seldom-filmed Laguna Pueblo tribe of New Mexico. The tribe has an annual tradition called Grab Day, in which select families in the tribe throw water and food from the roof of their home to people below. Grab Day is a communitywide show of thanks and renewal for the tribe.

"Many of the audience were expecting Miss Navajo II, but it's a completely different film," Luther says. "I knew I wanted to document the everyday life of the Laguna Pueblo tribe. Life out there is very still, and I wanted to capture that in the film."

For Luther, making these documentaries has given him a renewed interest in his family roots. Luther is of Navajo, Laguna Pueblo, and Hopi descent. He has already made films about the two former tribes, and is planning a future project on the Hopi tribe. "I didn't grow up on the reservation like my parents or grandparents," he says. "As a filmmaker in my 30s, I'm learning so much that I missed."