Thursday, April 7, 2011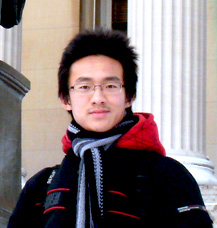 Zilong Wang will be featured on WGBY 57 (Springfield, MA) Public Television's "Connecting Point" on Monday, May 2, at 7:30 p.m.
"I have had the privilege to see the world; now it is my responsibility to change it," wrote Zilong Wang in his application to join the 2011 Student Freedom Ride.

Wang, now in his second year at Hampshire College, is one of 40 students selected from nearly 1,000 applicants as Student Freedom Riders, PBS's American Experience announced April 7. The May 6 - 16 experiential learning opportunity occurs in conjunction with the May 16 PBS broadcast of Freedom Riders and the 50th anniversary of the original May 1961 Freedom Rides.

Wang is from Inner Mongolia, China, and completed his primary and secondary education in Shanghai, with a year as a high school exchange student in Germany.

At Hampshire College, he studies history and philosophy, with a concentration on the Future of World Energy. His academic advisor is Professor of Peace and World Security Studies Michael Klare.

The Student Freedom Riders were selected on the basis of their essays on reasons for wanting to participate, thoughts on the role of social media and technology in civic engagement today, and extracurricular activities.

"Technology is indeed shaping our lives," wrote Wang. "Eventually, it is not the technology that matters—it is the people. If people remain the same, our society will not go forward. Technologies are here. Now, it's our role to make technology and social media work for the greater good of society."

Wang will be the student trustee on the Hampshire College Board of Trustees next year, after serving this year as trustee elect. He is also a student worker in the College's Spiritual Life Center.
Wang will appear along with three Freedom Riders from 1961 as part of a WGBY and Springfield Public Forum Freedom Rider program on April 8 at Symphony Hall in Springfield, MA. Admission is free and the public is invited.

A moving classroom

Over a ten-day journey, the Ride will be a moving classroom that retraces the route of the original Freedom Rides. It will engage Wang and the other students in this important era in our country's history, as they learn about the extraordinary commitment and courage of the individuals who took part in the Freedom Rides.

The Ride will also serve as a means of launching a national conversation about the role of civic engagement in a thriving democracy, explore what issues inspire students to "get on the bus" today, and look at what forms civic engagement is taking on campuses and in communities across the country.

The acclaimed film Freedom Riders, directed by Stanley Nelson, will premiere on American Experience on Monday, May 16, at 9 p.m. ET on PBS.

A diverse cross-section of America

The 40 Student Freedom Riders represent a diverse cross-section of America, much like the original Freedom Riders, who were black and white, men and women, and who, in 1961, used public transportation as a means of challenging segregation in the South.

The students hail from 33 states and the District of Columbia, and include individuals who grew up in China, Tajikistan, and Haiti. Students from a broad range of schools are represented—from state universities to community and junior colleges, from religiously affiliated schools to the Ivy League.

Kicking off in Washington, DC with two days of events at the Newseum that will gather many who were involved in the original Rides, the 2011 Student Freedom Ride will depart on Sunday, May 8, and roll through Virginia, North Carolina, South Carolina, Georgia, Alabama, Tennessee, Mississippi, and into Louisiana, stopping along the way at historically significant locations. The journey will end in New Orleans, the intended destination of the 1961 Freedom Riders.