Tuesday, April 12, 2011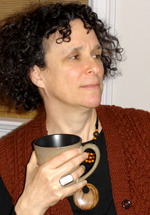 "My work is a continual evolution," says Marianne Lampke 77F, to whom a career label is appropriately hard to stick.
Since graduating from Hampshire in 1982, Lampke has worked throughout the Boston area's nonprofit film community, receiving an Image Award for Vision and Excellence from the New England chapter of Women in Film and Video in 2000.

In the last six years Lampke and her partner, Lisa Linnehan, have also started a cottage-rental business on Cape Cod. And in 2009, as a 50th birthday present to herself, she and Linnehan launched the Tern Foundation, a small private foundation supporting "opportunities for arts and culture, peace education initiatives, and environmental sustainability."

"Early on I realized that I needed to work for myself," Lampke recalls, "so I challenged myself to develop leadership and entrepreneurial skills." After graduation, she waited tables while working as a manager at Harvard Square's Brattle Theatre. But in 1985. the Brattle's owners went bankrupt - and Lampke saw her chance. She and fellow Hampshire alum Connie White 76F borrowed money in order to become the theatre's new owners.

"It was an enormous opportunity - to revive a once thriving repertory movie house, with the complete freedom to shape the business and programming as we envisioned," Lampke says. "With every challenge we found opportunities which led to new paths and creative endeavors."

After 15 years operating the Brattle, which included celebrating its 100th year and starting the award-winning Boston International Festival of Women's Cinema, Lampke and White sold the business to two of their employees and focused on the Beacon Cinema Group, a separate venture they started in 1998. Beacon Cinema provided programming and publicity services to film related businesses, including the Coolidge Corner Theatre in Brookline, MA, where Lampke continues her work as their film publicist and marketing advisor, and the Provincetown International Film Festival, which Lampke and White helped launch.

Since 2004, Lampke has "developed new ventures" with Linnehan, like renovating cottages for their own summer-fall rental business. This spring, they are installing a solar panel system that will provide electricity to three rental properties and their own Cape home.

They are also developing the fledgling Tern Foundation. Its first initiative, launched in 2010, is the TernSOLAR Challenge Grant Program, which helps fund solar panel installations for community-engaged Cape Cod nonprofits.

And this March, Lampke returned to Hampshire to discuss the second Tern initiative with faculty from CYL and DART. The grant program, Lampke explains, "will explore and support imaginative ways to use visual communications in promoting a culture of respect and civility in schools."

Returning to Hampshire with plans so different from those she graduated with doesn't surprise Lampke: "I always viewed my professional life as an opportunity to allow my creative passions to develop as a trail - where one thing leads to another, and so on."