Tuesday, April 19, 2011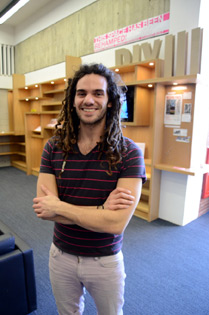 "When I came to Hampshire, I had no idea I would study architecture. But then my second year it hit me like a ton of bricks."

The simile Michael Meo used is an apt one for an architect, but it's less the physical materials, and more the spaces created by skilled design, that drive his work.
Meo arrived at Hampshire planning to study education and Latin American studies, but a studio course with architecture and design professor Thom Long quickly rekindled a childhood interest in building.

"Within a week and a half I knew more or less that working with space and people was what I would be doing for the rest of my life," says Meo.
"I didn't realize architecture could be a living thing that interacts with the environment. If I had taken a class that presented architecture as cold and calculating, I don't think I'd be where I'm at right now."

With his last year at Hampshire coming to an end, Meo is debating whether to attend Harvard University's Graduate School of Design or the Yale School of Architecture. Choosing between two of the top graduate architecture programs in the country is a pleasantly difficult task. Meo credits his Hampshire experience, and collaboration with faculty like Long and geography and urban studies professor Myrna Breitbart, with making his career choice simple.

"I'm so profoundly grateful, not for what Thom has given me, but what he's allowed me to give myself," says Meo, who chose Long as chair for both his Division II and Division III work.

As the focal point of his Div III project, Meo helped spur the creation of a Div III showcase in the Harold F. Johnson Library. It's the end result of the Rehamping drive he helped start last year that examines spaces on campus and, through community input, tries to redevelop them to best suit people's needs.

Hundreds of students took part in the discussions, and the strongest proposal ended up being the Div III showcase. Filling a portion of the southwestern corner of the library, the showcase is an interactive setting that both provides an easily accessible archive of past Div III work and gives current students an adaptable multimedia platform to present their ongoing projects.

"We have a need for more institutional memory," says Meo, who along with several other students helped construct the showcase at Thayer Street Associates in South Deerfield, a design build and construction management firm with strong ties to Hampshire. "They rearranged their shop hours so we could work with them on this project. It's really small and cozy there, and it's incredible the quality and volume of work they do."

Team projects like these inspire Meo. In the summers of 2009 and 2010, he worked with students from around the world in the Philippines and Korea, respectively, through the Pacific Rim Park Project, which creates friendship parks in Pacific Rim countries. At Hampshire, he led a group of students who created a campus map that the admissions office will give to new students. He also started arc5, an organization of Five College architecture students that was an impetus for the Rehamping movement. Meo praises the Five College architectural studies program for enhancing his studies.

"I was always welcomed with open arms to all Five College classes," says Meo. "They're very open to Hampshire students because they like what we bring to the table."

He also appreciates what those Hampshire classmates gave him.

"One reason I have thrived at Hampshire is that everyone is doing something radically different," says Meo. "It's a profound influence, sharing insights and getting critiques from outside of the architectural bubble. I'm so inspired by my peers, and I know for a fact I've turned a lot of people on to architecture, too."