Tuesday, April 26, 2011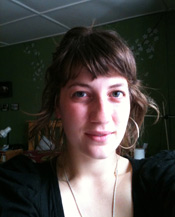 Miriam Shafer didn't just teach her students photography: she turned them into photographers.
Her Division III project was completed in conjunction with the Care Center, a nonprofit in Holyoke, MA, dedicated to providing general education courses to pregnant and mothering teens.

Shafer took over the center's photography course, working with a group of women aged from their mid-teens to early twenties.

For the students, the photography course revealed previously untapped skills. "I often get feedback from students about how impressed they are with their own work, that they've become comfortable with the cameras," Shafer says.

Shafer made a point of teaching the class in her students' neighborhoods, "so they [could] see themselves as photographers in their own environment," she says. Classes were also taught at Hampshire's film and photo facilities.

Shafer's faculty committee co-chair, Associate Professor of Film and Photography Sandra Matthews, saw her project as a means of bridging activism and art: "She's using photography as a tool for social action, in a very carefully thought-out way."

"It's really been an empowerment project," Matthews says, "She's created an environment that's very empowering for the students."

An exhibition of work by the class (and Shafer) will show in July at the Wistariahurst Museum in Holyoke. According to Associate Professor of Education Studies Kristen Luschen, a member of Shafer's faculty committee, displaying the students' work reinforces their identity as artists. "The students are artists—they're in the gallery, along with Mim, and their work is being shown to highlight their understanding as practicing artists," she says.

In addition to her photography class, Shafer also co-authored a pregnancy outcome options guide with Chloe Hall Lubelle 07F. The guide, Healthy Women, Healthy Babies: A Young Woman's Guide to Pregnancy Outcome Options, is adorned with photos and illustrations by Shafer's students.

"We've been working on it for close to two years. It covers issues including abortion access, adoption protocol, and prenatal curriculum," Shafer says. "There is a focus on the needs of young mothers and lots of info on public assistance options and Title IX details pertaining to education and young parents."

Shafer is taking measures to ensure her Div III has a lasting impact. She wrote a 16-week curriculum guide that she is leaving with the Care Center, ensuring the work that she started continues.

"A legacy has been established so that the work can continue," Luschen says.

Shafer's Division III show will be in Hampshire's main gallery May 3-5, with a closing reception from 5 to 9 p.m. on May 5.