Thursday, April 28, 2011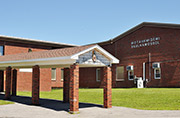 Mallory Schleif hears a language like that spoken by the Passamaquoddy Indian tribe and understands its essential importance to their history.
Immersing herself in it for her Division III work was a way of playing a small part in preventing it from disappearing, like so many indigenous languages worldwide have in recent decades.

"It's the only language in the eastern Algonquian family still spoken today. It used to be one of the most populous families of the continent, and there are still relatives of it out west and in Canada," says Schleif. "The Passamaquoddy have been aware they were losing their language since the late 1970s."

Schleif arrived at Hampshire knowing she would focus on linguistics, a field she compares to "a fusion between riddles and science." She loves riddles, and particularly those involved with decoding the complexities of the thousands of languages people speak. When it came to developing her Div III project, she initially thought of going to South America. But after deliberation, the Maine native ended up doing much of the work in her home state.

"There are plenty of indigenous languages in this country, and tons and tons are either not documented or haven't received rigorous recent attention," she says.

Following leads from Kathryn Flack Potts, a former visiting assistant professor of linguistics at Hampshire who is now a lecturer at Stanford, Schleif contacted Wayne Newell, the leader of a bilingual education program at a K-8 school on the Passamaquoddy reservation. He brought Schleif in as a classroom assistant.

Her work included making language games for the students as well as storybooks that she illustrated. Shleif also worked in the tribal museum, where she began building a database for cataloguing photographs, books, audio, and video. Her Div III project, entitled A River as a Stale Thing: Passamaquoddy Language Loss and Reclamation, is an account of the language's history and current usage.

"The adult generation now, including teachers, didn't grow up speaking the language. They listened to the language being spoken by elders, but they didn't start speaking it until they were adults," says Schleif, whose Div III chair was Professor of Linguistics Mark Feinstein, and committee member was Professor of Anthropology Barbara Yngvesson. "There have been simplifications as complex structures are phased out. There are interesting clusters that are typologically unusual, and those seem to be going away as the language becomes more English-like. People who are learning it now are coming in with a second language learner's background."

Helping to chronicle the 21st century usage of Passamaquoddy was an intense challenge for Schleif, who plans to continue linguistics studies in graduate school. Prior to that, she will try her hand at freelance illustration, a skill she discovered while making the storybooks for Passamaquoddy students.