Monday, May 2, 2011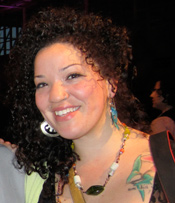 Leticia Contreras, a third-year Hampshire College student, has been selected by Campus Compact as a Newman Civic Fellow.

College and university presidents from 30 states nominated the 135 honorees, described by Campus Compact as "the best of the best: promising college leaders who have demonstrated an investment in finding solutions for the challenges facing communities throughout the country."

Contreras, who uses the arts as a vehicle for education and for social change, is recognized for engaging and inspiring a wide circle of her peers to address public health issues.

As a lead organizer with Hampshire's Civil Liberties and Public Policy program, and in the Chicano and African-American community in Texas where she was raised, Contreras has fostered youth and student activism on cultural and political issues.

The awards are named for Dr. Frank Newman, one of the founders of Campus Compact, who made a tremendous impact on American education and its role in development of citizens who are eager and prepared to make a difference. In naming this year's honorees, the first group of Newman award recipients, Campus Compact said, "They are, quite simply, reflections and affirmations of his life's work."

Campus Compact is a national coalition of more than 1,100 college and university presidents—representing some 6 million students—who are committed to fulfilling the civic purposes of higher education to improve community life and to educate students for civic and social responsibility.

For more information about the Newman Civic Fellows, visit www.compact.org.