Wednesday, May 4, 2011
At 40, Hampshire may be a very young school, but alums are already thick on the ground in a number of disciplines.

To Carol Varney 90F, managing director of the Bay Area Video Coalition (BAVC), this became extremely clear when she attended the eighth annual True/False Film Festival in Columbia, MO this spring.
One of the cofounders and co-directors (or co-conspirators, as they call themselves) of True/False is David Wilson 92F (at right).
Varney also saw Roland Legiardi-Laura 70F's recent award-winning documentary, To Be Heard, which was showing at the festival, and ran into some people from SPACE Gallery in Portland, ME, where she used to be on the board of directors and Jessica Tomlinson 89F is the current president. 
The network became even stronger this spring, when BAVC hired Ewen Wright 04F as an assistant in its youth program, The Factory.

"Basically," says Varney, "I see all of these Hampshire grads working hard to get social issue doc films and other docs onto the big screen and in front of audiences."

Varney does this herself at BAVC. She says the coalition, which focuses on making media technology accessible, "combines all of the passions I had at Hampshire and still have about who has a voice and who doesn't, how stories are told, and giving people whose voices are not normally part of the mainstream the tools they can use to tell their stories and inspire social change."

Wilson also traces this work to his time at Hampshire. "Taking every assumption of traditional American filmmaking and making it something that could be questioned" was a big part of the film program at Hampshire, he recalls.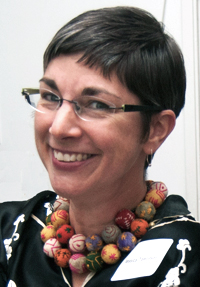 Wilson was frustrated that challenging films like the ones he and other Hampshire students were watching and making were unavailable to audiences in his native Missouri. So when he graduated and returned to the state, he started a small distribution company called Kinofist, which spawned the PunkNotRock Tour, a traveling film and music event.

Next, he and "co-conspirator" Paul Sturtz founded the Ragtag Film Society in 1998. The society created the Ragtag Cinema in 2000, which in turn led to - and was the first to house - the True/False Film Festival.

Wilson joined the SPACE Gallery advising board after years of informal consulting with its cofounder, Jon Courtney. Sometime after meeting at a stop on the PunkNotRock Tour, Courtney decided that the films chosen by Wilson were the kinds of films that he wanted to have shown at SPACE.

As for SPACE, it "continues to attract the Hampshire community," says Tomlinson, who became president of the gallery's board of directors shortly after Varney left for BAVC. Tomlinson notes that Elizabeth Atterbury 00F, Gideon Bok 89S, and Sara Smith 90F have also worked at or with the gallery, and several Hampshire students have interned there.

In June, Tomlinson will represent SPACE at The Warhol Initiative, an invitational program designed to bolster the organizational capacity of small and mid-sized, artist-centered organizations across the country.

She says: "Something tells me I will run into Hampshire alums there."