Friday, May 13, 2011
Documentary filmmaker Roland Legiardi-Laura 70F, co-director and producer of the prizewinning documentary To Be Heard and cofounder of Power Writing and Power Poetry, vividly remembers how he became one of Hampshire's first students.

After attending a "grade-obsessed high school," he was concerned that college might keep him from learning. Then Hampshire's first admissions director walked into his senior English class and asked: "Anybody interested in going to a school with no grades, no tests, coed dorms, you evaluate yourself and your professors, and it's in an apple orchard?"

"Sounded like heaven," he recalls.

Though often a vocal critic of Hampshire as a student and an alum, Legiardi-Laura says he owes much of that "sense that I was in control of my destiny" to Hampshire.

Since 2001, he has tried to pass that on by cofounding and teaching the Power Writing Program, a radical poetry workshop for New York City high school students. "We teach our students to embrace literacy," he explains. "Literacy is a weapon. Our motto: 'If you don't learn to write your own life story, someone else will write it for you.'"

To Be Heard grew out of the program, following three Power Writers through high school. Another project, in turn, grew out of making the documentary. Power Poetry, a transmedia, project, has students compose and share poems in text messages, record video performances on their cell phones, and send text and video to the Power Poetry website.

"Seventy-five percent of all teens own cell phones and 33 percent send more that 100 texts per day, according to a recent Pew Research study," notes Legiardi-Laura.

"The project seeks to convert apolitical social media into active social engagement tools," he explains. "The project will partner with thousands of NGOs, community organizations, and the few corporate sponsors that seek a better world."

Poets and organizations will link to one another based on the themes of the writing.

"Imagine poetry being used as a campaign tool for NGOs to engage young people, build membership, and move their causes forward," he says. "It's about how change really happens today."

Over the years Legiardi-Laura has written recommendations for dozens of young people wanting to attend Hampshire. One of the Power Writers will attend this fall as a James Baldwin scholar.

She is the first Power Writer to attend Hampshire, and Legiardi-Laura is very proud: "I told her Hampshire is about learning to be a useful troublemaker and, while she's there, I expect her to make as much trouble as possible."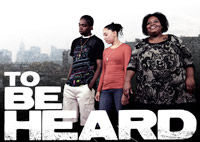 "Being a doc filmmaker is no longer about hoping your work has impact," says Legiardi-Laura. "It's about learning to use film as an entry point to a nexus of media platforms that are far more dynamic, fluid, and interactive. It is no longer simply about emotionally engaging your audience. It is about creating partners for the work you believe in."