Monday, May 16, 2011
Tania Houtzager 07F likes a challenge. For her Division III final project at Hampshire, she had two of them.

Houtzager arrived at Hampshire intending to focus on studio art in a variety of mediums. In her first semester, though, an Introduction to Art Education course sparked an interest in teaching as well.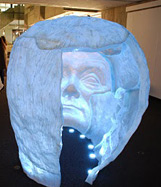 "Studio work is very solitary. Working with children and colleagues, being more social, was appealing," she says.

The combination of spending time on her artwork in the studio and collaborating in an educational setting drove the rest of her Hampshire studies.
Her Div III work was split into two parts. The first was a large-scale sculpture constructed in her home state of California that was shipped to Hampshire and assembled here. The central composition was a six-foot-tall portrait head, sculpted initially in clay and then cast in resin.

"I like work that involves your whole body, the physical experience of working with large-scale objects," says Houtzager, who focused on drawing and painting before working on sculpture starting in her third year at Hampshire.

The second portion of her Div III project was based on a full semester of classroom training that allowed her to earn her teaching certification through the Mount Holyoke College teaching licensure program. Houtzager did her student teaching at the Wildwood School in Amherst, where she worked with first through sixth graders. It was a revitalizing experience.

"I think there was a symbiotic relationship between my studio time and teaching. The kids gave me inspiration to approach things in new ways. And then I would do things in the studio and would get excited about adapting it for the kids," she says.

Houtzager's Div III chair was Visiting Assistant Professor of Art Jana Silver, with a committee made up of Associate Professor of Sculpture Tom Haxo and Carol Keller, chair of the Amherst College art and art history department. Houtzager took numerous Five College consortium courses, from sculpture at Amherst to teaching at Mount Holyoke, and encourages students to make the most of the opportunity.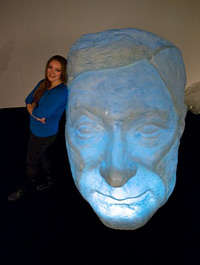 "The resources of the Five Colleges are amazing, and everyone was always welcoming," she says.

After commencement, Houtzager plans to head back to California and return to studio work. Aside from that, she feels her career options are wide open, thanks to what she learned at Hampshire, and she's excited about exploring them.

"People say you only get out of Hampshire what you put into it. And I put a lot into it," says Houtzager.