Friday, June 3, 2011
Aimee Aubin entered her final year at Hampshire with a refreshing perspective on her studies: Prior to fall semester, her summer employer offered her full-time work at the expense of her last year of college. After briefly considering the offer, Aubin declined.

"It really made me enter the year looking at it as a gift. It allowed me to not stress," she says. "I really looked at it as a year to take for myself, to really explore my education."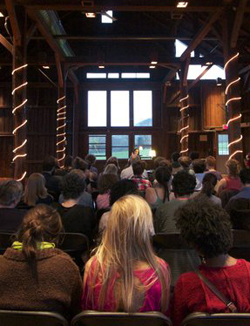 Aubin's Division III, a collection of fiction entitled Like a Nice Warm Bath, explores womanhood through plays and short stories. "They collectively deal with themes of women's relationship with food, women's bodies, childbearing, motherhood, and aging," she says.

Part of the project's inspiration was a weekly collaborative group for women-identifying students, featuring women of different racial, socio-economic, religious and sexual backgrounds and orientations. The women talked openly about womanhood, "what it means to be a woman, how women feel about their own femininity, and how maternal relationships have played into those ideas," Aubin says.

"It was a small group, but a lovely group of people who were invested in being there," Aubin says. "They were really willing to explore the questions I was interested in for my project."

Creating an alternative space for women-only provided an open atmosphere. "I think that because women have historically been denied space in a public sphere, it's so important to carve out spaces where there is no male eye," she says. "It allows women to talk in a small and very safe place, exploring writing and storytelling in a creative way."

In addition to her writing group, Aubin interviewed her maternal relatives about concepts of women and work, self-sufficiency and economics. "My mother's father died when she was young so that really affected that side of the family," she says.

Aubin transcribes her interviews and group sessions, using the information to inform her written pieces.
   
Her Division III committee was Visiting Assistant Professor of Theatre Talya Kingston (chair) and Assistant Professor of Fiction Writing Nathalie Arnold. "Both of them have been extraordinarily supportive and have never been afraid to ask me difficult questions," Aubin says. "They're incredibly honest about their feelings about my writing.

Now that she has graduated, Aubin plans to build on her studies, continuing to write and submit pieces to publishers.