Friday, June 17, 2011
Hampshire partners with community organizations to build bridges to college

The dreams and generosity of one individual can profoundly affect the lives of many.

The late Joan Hastings, a community and social justice advocate who passed away last year, continues to connect individuals and institutions in innovative ways through a program launching at Hampshire College this summer. It is designed to build bridges to college for underserved children and youth and create a connection between Hampshire College and community organizations that Hastings supported through the years:

Care Center is an alternative education program for teen mothers, with a mission that includes a focus on higher education. Treehouse Foundation builds programs that provide supportive community connections for children in the public foster care system. Enchanted Circle Theater inspires learning through the arts.

The collaborative program began with a conversation Hastings had with her friend Sarah Buttenwieser 81F. Hastings described her desire to provide parenting teens and foster children with a sense of "belonging," one that could include a connection to place and a feeling of rootedness. She wanted to give educational experiences to young people who might not otherwise have access in order to provide them with an understanding that they could be at home on a college campus.

Buttenwieser, a graduate of Hampshire, immediately realized that the College—with its commitment to interdisciplinary education and innovation, and community-based learning—would be the perfect setting. Together they reached out to Hampshire's interim president Marlene Gerber Fried, who shared their enthusiasm, and Hastings made a $200,000 gift to support a pilot program in 2011.

"It just sounded like Hampshire," said Buttenwieser. "I knew that all these players could come together at a table and hold up something beautiful."

"The collaboration on this project has been inspiring for all of us who are involved," said Gerber Fried. "It's a great example of how the Hampshire motto—to know is not enough—gets lived out through the integration of academic studies with involvement in the world around us."

"We are so excited to be a part of this inventive initiative," said Care Center executive director Anne Teschner. "This college experience that has been created for Care Center fits perfectly with our larger goal of exposing teen mothers to the excitement and power of higher education."

Hampshire students, faculty, and staff will be involved, as will The Eric Carle Museum of Picture Book Art, which is providing studio art programming. Students will spend afternoons at the Carle where—led by Enchanted Circle Theater—they will discuss, interpret, and demonstrate what they have experienced in their morning programs at Hampshire.

June 20-24: Care Center week at Hampshire's Farm Center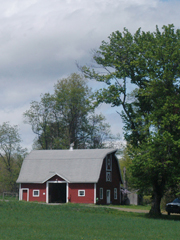 Roots will be put down literally as well as metaphorically, with significant portions of the educational experience taking place on Hampshire's Farm Center. The Farm Education Collaborative, which runs the summer
Farm and Garden Camp
at Hampshire College for youth ages 3 through 20, will offer farm-based educational opportunities at the Farm Center.
Built around the theme "The Story of Food," the June 20-24 sessions will involve science-based, hands-on learning activities that cover such topics as plant life cycles, energy use in food production, the history of milk, and the processes involved in making cheese. Each day a professor or staff member at Hampshire will talk with the students during lunch.
July 11-15: Care Center week at Hampshire's Lemelson Center
Hampshire's Lemelson Center will host a week built around the theme "Creative Expression and Problem-solving." With its emphasis on design, invention, and entrepreneurship, the Lemelson Center offers great opportunities for learning by doing. Each young woman in the July 11-15 sessions will have an opportunity to build a project, learning about innovation and the generation of ideas as well as how to use the tools available in the Lemelson Center.