Tuesday, June 21, 2011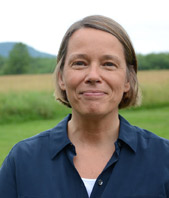 Hampshire College welcomes Julie Richardson as dean of admissions and financial aid. Richardson brings two decades of experience in admissions and financial aid leadership to Hampshire.

Richardson has previously headed enrollment programs at Marlboro, Mills, and Bay Path Colleges, leading to increased applications, record-breaking enrollments, and broader student access. She has also served as director of financial aid at Northfield Mount Hermon School and held financial aid positions at Antioch New England.

In announcing the appointment of Richardson, Vice President for Academic Affairs and Dean of Faculty Alan Goodman said: "I am pleased to announce that Julie Richardson is joining Hampshire College. Her approach to admissions and financial aid leadership is analytical and data-informed as well as strongly student-focused. Her educational and professional experiences make her an exceptional fit for Hampshire."

Richardson holds a master's degree in management from Antioch University New England and a bachelor's degree in liberal studies from Vermont College.

In addition to admissions and financial aid leadership positions, she has also worked with Marlboro as a special projects assistant to the college president.