Tuesday, July 26, 2011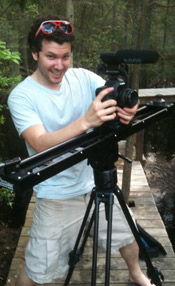 Stephen Gifford 00F didn't just get an education from Hampshire; he found collaborators. Gifford and fellow alums Kevan Tucker 01F, Mitchell Kase 01F, and Tim O'Neill 01F worked together on the 2009 movie The Unidentified over the course of three years.

Gifford studied film at Hampshire. His Division III (senior) project involved a 60-minute film about a serial killer called Lost. "That was before the television show stole the name," he jokes. Gifford also did a 15-minute comedy called Battle for Buttfield.

Hampshire proved to be a fertile creative environment for Gifford. "It was a community—my friends and I never let each other fail. We supported each other," Gifford says. "Everyone I worked with at Hampshire, I still work with today."

The Unidentified, written and directed by Tucker and produced by Kase, O'Neill, and Gifford, tells the story of Estlin, a passionate young journalist struggling to find his niche as he falls in love with Sophie, an optimistic artist.

"It was a difficult movie to pull off," Gifford says. "It came together over a lot of late-night cups of coffee, where the four of us sat down and came up with this idea, to tell the story of people getting out of college and not knowing what to do."

The Unidentified won Best Feature Film prize at the First Glance Film Festival, Best New Director at the Brooklyn International Film Festival, and was an official selection of the Asheville Film Festival. It has been screened in venues from Egypt to Brooklyn.

When asked, Gifford says self-reliance and an awareness of his own potential are two of the most prominent things he took from his years at Hampshire. "I had to find the passion within myself," he says. "Everyone really encourages that sense of independence as an artist."

Professor of Film and Photography Abraham Ravett was Gifford's advisor for his four years at Hampshire as well as the chair of his Division II committee. "He never accepted anything from me that wasn't representative of what I could do," Gifford says. "He always knew what I was capable of and when I wasn't living up to that."

2011 has been, and will continue to be, a busy year for Gifford. He recently founded a creative boutique, Pretty Damn Sweet, offering editorial, design, and graphics services for clients large and small.

Gifford is also putting finishing touches on a documentary called Children of the Earth, about Tom Brown, Jr.'s Tracker School in New Jersey, a school that teaches Native American traditions, tracking, and survival skills. The film is slated for a 2012 release.

"It's going to be pretty special," Gifford says.