Wednesday, July 27, 2011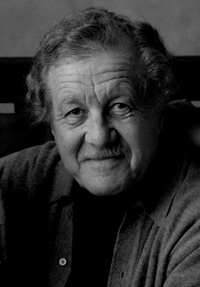 April 16, 1924 - July 27, 2011

The Hampshire College community mourns the loss of Professor Emeritus Jerome Liebling, who died July 27 at Cooley Dickinson Hospital in Northampton, Massachusetts.

Professor Liebling founded Hampshire College's film, photography, and video program.
He was already a photographer and filmmaker of international renown when he came to Hampshire from the University of Minnesota in 1969, before the College had even opened its doors.
He remained at Hampshire until his retirement in 1990, with a leave in academic year 1976-77 to serve as Yale University's First Walker Evans Visiting Professor of Photography.

Liebling's background as an active photographer and filmmaker enabled Hampshire, from its earliest days, to bring together seamlessly two traditionally separate arts disciplines—filmmaking and photography. This integration was one of the clearest early manifestations of Hampshire's commitment to innovative, interdisciplinary education.

His name graces the recently renovated Jerome Liebling Center for Film, Photography, and Video, a centerpiece of the campus.

Images by Jerome Liebling tell a distinctly American story. He created intimate and deeply honest portraits, capturing the dignity of ordinary people living their lives. He documented both the urban and the rural landscape, remaining true both to the subject and to his artistic vision.

His former students, many of whom have gone on to be among the nation's leading filmmakers and photographers, have praised Liebling for his humanity, intelligence, and perception as well as the power of his influence on their work. Ken Burns has said that his mentor's "thumbprint is suffused on every frame" of his films.

"With Jerry's death, the world has lost a gifted photographer and filmmaker, and Hampshire College has lost a beloved teacher, mentor, friend, and colleague," said Sigmund Roos, chair of the College's board of trustees. "He had a profound impact on Hampshire, and on the education of a whole generation of filmmakers. This is a personal loss for me and many others at the College. I will miss him dearly."

Jonathan Lash, who took office as President on July 15, said, "As a newcomer to Hampshire, I was very much looking forward to meeting Jerry as one of the creators of Hampshire's wonderful tradition of arts education. I am grateful at least to know him through his photographs and his students. Jerry's wife, Becky Nordstrom, is a faculty member at the College, and my wish now is that we do everything we can to support her."

"Jerome Liebling and his camera saw into the souls of America. He is irreplaceable. We all mourn his personal and professional loss," said Alan Goodman, vice president of academic affairs and dean of faculty.

Liebling's work is in the permanent collections of major museums throughout the world. His photographs have been exhibited at the Museum of Modern Art, the Getty Museum, the Boston Museum of Fine Arts, and many other museums and galleries. He received two Guggenheim Fellowships and had many monographs of his work published. Among his many awards and honors was first prize in the 1993 New England Film Festival for Fast Eddie and the Boys, a film he produced with two former students, Hampshire graduates Roger Sherman and Buddy Squires.

Our hearts go out to his wife Rebecca Nordstrom, Hampshire professor of dance; his children Madeline, Tina, Adam, Daniella, and Rachel Jane and his five grandchildren; and his wider circle of loved ones.
A memorial service for Jerome Liebling was held at Hampshire College on June 10, 2012.
More on exhibition and memorial >>
Video of the May 2009 opening of Hampshire's Jerome Liebling Center for Film, Photography, and Video >>
Photographs of the Liebling Center opening >>
Recent Jerome Liebling interview (from blog, Kate Osba 00F) >>