Wednesday, August 24, 2011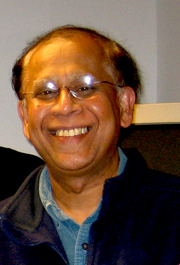 The Society of Analytical Chemists of Pittsburgh has awarded a 2011 Undergraduate Research Program Grant to Hampshire College's Dula Amarasiriwardena.

The program promotes high-quality, innovative undergraduate research in the field of analytical chemistry.
This is the second time that Professor Amarasiriwardena has received the award, which is given to a chemistry professor who involves students in conducting research.

The grant will support research by Amarasiriwardena and Hampshire students on the determination of trace metals in contaminated soils, using the College's laser ablation-inductively coupled plasma mass spectrometer.

Among criteria for selection of the award winner are: the scientific merit of the proposal; the impact of the proposal on the field of analytical chemistry; and the impact of the proposal on the development of undergraduate students who are working towards a degree in chemistry.