Monday, August 29, 2011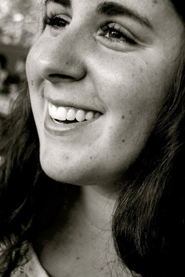 May 2010 graduate Laura Mansfield has been awarded a Fulbright scholarship to follow the 2012 elections in Venezuela. Her Fulbright research will build on work completed for her Hampshire College Division III (senior) project, which focused on the social programs of Venezuelan President Hugo Chávez.

Mansfield will arrive in Venezuela in March 2012 and follow the election season for at least 10 months, writing a report examining the factors involved in whether Chavez is voted back into office for a third term in the December election.

She will also examine the use of various forms of media throughout the campaign. Regional elections for governors and mayors will be held on the same day as the presidential election.

Mansfield spent fall semester 2009 in Venezuela researching her final Hampshire project. She wrote about the use of petroleum revenues to help pay for social programs such as free medical care, free education, and subsidized food costs. She also photographed the Venezulean political landscape extensively.

Michael Klare, director of the Five College Program in Peace and World Security Studies, and film and photography professor Sandra Matthews served as Mansfield's Hampshire Division III faculty committee.

"The Fulbright project definitely extends and builds on my Division III," said Mansfield. "My original interest was petroleum economics and petroleum revenues, but I grew interested in the political situation in Venezuela while I was there. I saw the importance of the upcoming elections. That led me to apply for the Fulbright and I am excited about going back."

In addition to her final Fulbright report, Mansfield plans to blog, posting weekly updates from the field on the election as it progresses. She also hopes to write for other media outlets as well as pursue documentary photography projects.

First, she will finish her current assignment, a six-month contract as a ship's photographer en route to Canada and Alaska with Norwegian Cruise Line.

The Fulbright U.S. Student Program offers fellowships for graduating college seniors, graduate students, young professionals and artists to study abroad for one academic year. U.S. Student Fulbright Website >>

Hampshire's campus Fulbright committee worked closely with Mansfield throughout the application process. Committee members are chemistry professor Dula Amarasiriwardena, economics professor Omar Dahi, and Career Options Resource Center director Carin Rank and associate director Nancy Osgood.