Tuesday, September 6, 2011
John and Nancy Kendall have supported Hampshire College quietly for decades. The board of trustees has acknowledged their efforts by naming the College's main entrance Kendall Drive in their honor.

Signs are now up on Kendall Drive. The announcement was first made during the 2011 commencement weekend, which the Kendalls attended. Sigmund Roos 73F, chair of the board, noted that the tribute was well deserved.

"We felt strongly that the College should, after all these years, recognize people so influential in its founding," says Roos.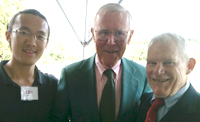 John Kendall initially became involved in Hampshire through his friend Charles Longsworth, an Amherst College classmate who became Hampshire's first employee and second president. Along with his wife Nancy, Kendall has continued to play an active role on the campus. He served as a member and chair of the board of trustees, and helped engineer the purchase of hundreds of acres of land on the north side of the campus for the College's benefit, thereby protecting it from encroaching development.

"That land has become the College's farm center, a rare example of environmental sustainability and productive agriculture on a liberal arts college campus," said trustee Kenneth Rosenthal in a speech during the annual trustees dinner. To Kendall, he remarked: "You gave generously of your time, energy, ideas, and financial resources, all at a time when this very young College sorely needed your help."

Photo: John Kendall (right) with student trustee Zilong Wang and President Emeritus Charles R. Longsworth