Tuesday, September 13, 2011
The Society of Dance History Scholars has chosen Professor Constance Valis Hill's Tap Dancing America: A Cultural History as the year's most distinguished book of dance scholarship.

Tap Dancing America is the winner of the society's 2010 de la Torre Bueno Prize for the best English language writing on dance historiography.

More on Tap Dancing America >>

The award will be presented to Professor Hill on October 22 at a special reception at the American Tap Dance Foundation in New York City.

Named after José Rollins de la Torre Bueno, the first university press editor to develop a list in dance studies, the annual Bueno Prize was first awarded in 1973 and has set the standard for scholarly excellence in dance scholarship for more than thirty years.

As a Five College Professor of Dance, Hill is based at Hampshire College. She teaches courses in dance history, performance theory, jazz studies, choreography on camera, and feminist performance.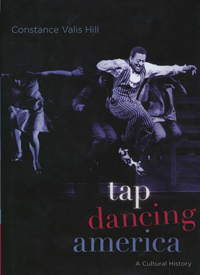 In announcing the award, the Society of Dance History Scholars described Tap Dancing America as "a groundbreaking book that analyzes tap dance as a multi-layered fusion of African, European, and American influences, embodied and transformed by generations of men and women dancing across the racial divide.
"This book is certain to have a profound influence on how we think about American dance."

Since its publication in 2010, Tap Dancing America has received numerous honors, including the American Tap Foundation's Tap Preservation Award, the Bill "Bojangles" Robinson Award from the Flushing Town Hall/Tap Extravaganza, and selection as a finalist for the Theatre Library Association's Richard
Wall Memorial Award.
The writing of the book was supported by grants from the John Simon Guggenheim and John D. Rockefeller Foundations.