Thursday, September 15, 2011
Artwork by renowned Cuban-born artist Emilio Sanchez has been given to Hampshire College.

The Emilio Sanchez Foundation's executive director and curator Ann Koll, on behalf of the foundation trustees, presented 12 color lithographs to Hampshire.
The College has had a study-abroad program in Cuba since 1997, offering students the opportunity to spend a semester in Havana, with a focus on language, the arts, and contemporary issues in Cuban society.
"Placing Sanchez's work at Hampshire College at the same time that the exchange program with Cuba is blossoming feels so right," said Koll.

During fall 2010, thanks to the U.S. government's easing of restrictions on visas for Cuban intellectuals, Hampshire was able to resume bringing scholars from the island to be in residence on campus. This exchange was part of the College's original agreement with the Union of Cuban Writers and Artists, the organization that sponsors Hampshire's exchange program. Four writers and social critics had come to Hampshire prior to 2004, when visas for such residencies were essentially cut off.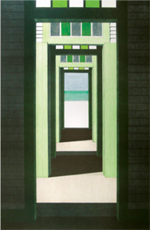 Last fall, Abel Sierra, a young historian and ethnographer, whose Ph.D. was earned at the University of Havana, spent two months at Hampshire.

Currently, Cuban artist Eduardo Hernández Santos is an artist in residence on campus, thanks to a grant from another foundation, the Fundación Cuba Avant-Garde. He is the first Cuban artist to have a residency at Hampshire.

Emilio Sanchez was born in 1921 to a prominent Cuban family in Camagüey, Cuba. Sanchez knew from an early age that he wanted to be an artist. In 1938, he left Cuba to begin informal studies in Mexico and later received formal training at the Arts Students League and Columbia University Art School. He settled in New York City in 1952. Though he would travel extensively, the city would remain his home until his death in 1999. However, it was in Cuba that he became fascinated with the play of light and shadow on colored forms that became a dominant characteristic of his works.

Emilio Sanchez biography >>

An artist with an independent voice and international acclaim, Sanchez has had over 60 solo exhibitions and has been included in numerous group shows in museums and galleries in the United States, Latin America and Europe. His art is in private and public collections, including museums such as the New York Museum of Modern Art, the Metropolitan Museum, and the Philadelphia Museum of Art.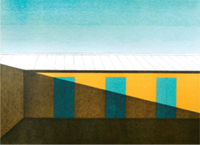 Several publications on Sanchez's life and work donated by the foundation will be catalogued in the Hampshire College library, where they will be available for faculty and student research.

The Emilio Sanchez Foundation was established in Sanchez's will as a means to preserve and promote his work, assist other nonprofit arts organizations to support contemporary artists through direct grants, and to support ophthalmic research. In the last decade of his life Sanchez was nearly blind in one eye, and through the foundation he hoped that others would have access to medical care similar to that which he received.

This donation of art helps Hampshire students connect to this rich legacy and will serve as an inspiration for generations of students and faculty involved in Hampshire's Cuba program.