Friday, September 16, 2011
Hundreds of Hampshire students filled the Robert Crown Center on September 14 for the fall 2011 Hampfest, organized by Campus Leadership and Activities.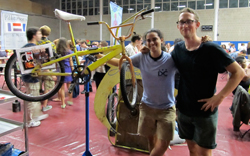 At the beginning of each semester, all the student groups on campus set up their stands to advertise themselves for new members. It's always crowded, and always a total sensory overload - but it's never the same.

Student groups come and go. Clubs fizzle out as members graduate or decide to focus on different interests. But for every group that disappears, another takes its place, to cater to the needs and passions of new students, or to the new needs and passions of not-so-new students.

Mi Cuba is one of the new groups. Suanny Garcia 10F and Mireidys Garcia 10F (no relation) started Mi Cuba with a third student this semester to share Cuban history, culture, dance, food, and more. "All three of us are Cuban, and from Miami," explained Suanny. "When we're here, we miss home."

"And there are a lot of people here at Hampshire who are interested in Cuba," Mireidys pointed out. She said the group would also be a resource for students preparing to study in Cuba or wanting to reminisce about their trip there.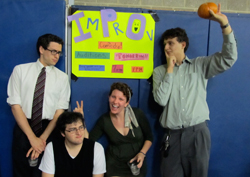 Of course, there are also plenty of older groups. For them, Hampfest is an opportunity to find new members, who bring in energy and fresh ideas.

Heather Nielsen 08F, who was at Hampfest to represent both the a cappella group The Gin and Tonics and the baking and Shakespeare-reading club Shake ?n' Bake, was excited by the great turnout of first-year students. She noted that the new Community Engaged Learning requirement for Division I brought in more first-years than were at previous Hampfests. Joining student groups helps bring first-years into what Nielsen calls "the Hampshire beauty of combining academic and extracurricular interests."

One of those first-years, Shea Sweeny 11F, said she was amazed by how diverse those woven-together interests could be. "I'm seeing all of these people from my classes, doing things I didn't know they were involved in," she said.

"I hope I'm like that, when the time comes," she added. With 111 groups on campus this semester, she shouldn't have too much trouble.