Wednesday, September 28, 2011
Psychology professor, author, and researcher Timothy D. Wilson 72F delivered the inaugural lecture of the Cognitive Science Distinguished Alumni Lecture Series on October 6, 2011.

Wilson, the Sherrell J. Aston Professor of Psychology at the University of Virginia, spoke about his book Redirect: The Surprising New Science of Psychological Change. Based on his years of research in the field of social psychology, the book focuses on the technique of "story editing." The psychological method is used to help people make positive change by altering the "stories" that shape their outlook and approaches to life.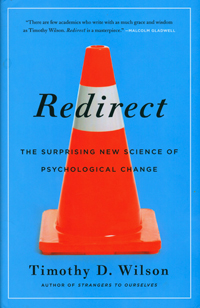 "We all tell ourselves stories to make sense of the world. These stories ultimately determine if we will lead healthy, productive lives or get into trouble," said Wilson. "I will discuss what story editing is, how it has been used, and its limitations."

Originally a student at Williams College, Wilson was spending his third year at Mount Holyoke College when he took a course at Hampshire taught by Joel Meister and Michael Cole. The young school, then in its second year, impressed him. Hampshire had developed a "Fellows" program at the time, as none of the traditional students had yet reached the Div III level. By bringing in upperclass students from other schools, the belief was that they would help establish a high level of work and research. Wilson was accepted as a Fellow, and spent 1972-73 at Hampshire.

"I fell in love with the philosophy of self-guided learning and independent research. It was a lively and exciting place. There was an esprit de corps, a feeling that we were inventing things from the ground up," said Wilson. "What really appealed to me was that I could focus on research."
 
He continued that social psychology research at the University of Michigan, where Wilson completed his graduate and Ph.D. work and collaborated with psychology professor Richard Nisbett. In 1977, the two co-wrote a paper published in the journal Psychological Review titled "Telling More than We Can Know: Verbal Reports on Mental Processes," which had a major impact in the field and was a foundation of Wilson's reputation in the field.

"It was a seminal paper on the cognitive unconscious, and is certainly one of the most influential papers in social psychology over the last forty years," says Hampshire College Professor of Psychology Neil Stillings.

In 2009 Wilson was elected to the American Academy of Arts and Sciences.
He has taught at the UVA since 1979, where he has received the All University Outstanding Teaching Award and the Distinguished Scientist Award. In addition to Redirect, Wilson is the author of Strangers to Ourselves: Discovering the Adaptive Unconscious and numerous articles on self-knowledge.
The Cognitive Science Distinguished Alumni Lecture Series is sponsored by the School of Cognitive Science and the SPARC (Supporting Professional Alumni Returning to Campus) fund.