Tuesday, October 18, 2011
Eduardo Hernández Santos: artista residente cubano »

In more than 20 years of photography and printmaking, Havana artist Eduardo Hernández Santos has challenged Cuba's post-Revolution iconography. His work celebrates male beauty, examines the victimization of men through machismo, and openly discusses homosexuality and transgenderism.

It seems only natural he would end up at Hampshire.

Santos is Hampshire's first Cuban Artist-in-Residence. The six-week residency is funded by the Fundación Cuba Avant-Garde, a foundation that supports cultural and artistic exchange. "The foundation was created by Howard Farber," Santos explains, "and is named after his collection of Cuban art." Santos's photography appears in that collection, alongside the work of three generations of Cuban artists.

Selections from Santos's work were also displayed in the Mann Gallery of Hampshire's Liebling Center this September. The exhibition included photographs and prints from throughout his career, but Santos notes the limitations of what he could bring. Much of his photographic work is collaged with real found objects, including broken glass, dried plants, gears, and a rusty razor. "I couldn't bring some of these pieces to the airport," he says. "They have metal in them. Alarms would go off. It would be horrible."

Another of Santos's works, El Muro (The Wall) is now in the Smith College Museum of Art's collection, and is on display through November 20.

As for his work during the residency, Santos says he arrived with a plan of action: lecturing on his work, exhibiting his prints and photos, co-teaching a class with film and photography professor Jacquelyn Hayden on 1960s and '70s Cuban photography, leading a paper cut workshop, and producing a work that relates to his experience here.

Santos credits Hayden with organizing the ins and outs of bringing him to, and navigating, Hampshire. Santos's first encounter with Hayden, and with Hampshire, was through the College's Cuba Program. The program brings students to Cuba and pairs them with Cuban writers, historians, artists and musicians who serve as tutors during the semester-long project.

"In 2006, the program was looking for a tutor for a photography project on gender," Santos recalls. The student was Lucas Blair Simpson 03F, now a Chicago-based photographer.

Santos tutored three other Hampshire students after Blair. "I also conducted lectures on Cuban art, talks about my own work for all of the students in the program, and individual consultations on various student projects," he says.

R. J. Sakai 08F was the most recent Hampshire student tutored by Santos. Sakai describes his teacher as a guide through the "Habana profunda," as opposed to the Havana tourists are familiar with.

With Santos now at Hampshire (and in the United States for the first time), the roles have reversed. "Throughout Eduardo's residency here, my role has been to reciprocate," says Sakai. "Just as he shared with me how he understands Cuba, I have been sharing my understanding of this culture."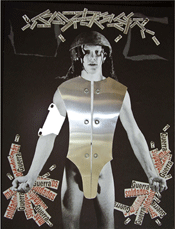 Sakai also points to the reciprocity allowed by the residency as a whole. "It makes Hampshire's Cuba program a true exchange," he says.

At the end of October, Santos will return to San Alejandro National Academy of Fine Arts in Havana, the second oldest art school in the Americas, where he is both a professor and an alum. "I don't think my style of teaching will change," he says, "but I may incorporate new ideas, or enriched methods, from my experience at Hampshire."