Tuesday, November 8, 2011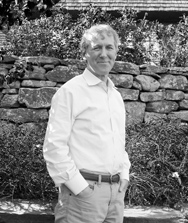 I met Aaron Lansky, the man who rescued millions of Yiddish books from extinction, in his beautiful library of an office at the Yiddish Book Center he founded. He exuded boyish ebullience and intellectual fervor that reminded me immediately of his academic roots at Hampshire, and when we had settled down with some tea, I could not resist asking what the College was like in its infancy.
The Yiddish Book Center's Great Cultural Rescue >>

Lansky entered Hampshire College in 1973, the first year that the College had four classes. "It was thrilling," he said. "The whole world was open to me. From the beginning, I was certainly in love with social science."
Hampshire offered the first college course ever taught on the Nazi holocaust in the United States. Lansky enrolled. "I found myself fascinated with what it was about Jewish culture that was so antithetical to fascist ideology," he said. "Who were these people? What food did they eat? What music did they play? What did they read and write? These questions seemed infinitely more relevant to me."

By the time Lansky graduated, he was fluent in Yiddish, well versed in the history of Jewish culture, and determined to resurrect the remnants of an intellectual world that had crumbled over generations of neglect. Alarmed that young Jews were throwing books away because they couldn't read the language, he left graduate school at McGill University to initiate the National Yiddish Book Exchange, and went on to rescue over a million volumes.

When the young Lansky approached potential sponsors in the Jewish community with his idea, he said, they unanimously replied, "Don't you know that that Yiddish is dead?" They were describing not a reality, but a future Lansky hoped to prevent, and he responded to their condemnation impatiently. "It's probably hard for you to imagine how stodgy and white and male they were," he joked with me. "They had desks like aircraft carriers... I'd come in with a lot of hair and a scraggly beard and they thought I was going to blow their cover!" he laughed. To Lansky, these men represented the spirit of assimilation that had motivated many Jews to discard their Yiddish books and culture.

"Yiddish didn't die a natural death," he asserted. Yiddish culture and literature has been systematically destroyed by the Holocaust, which took the lives of half the population of Yiddish speaking people; Soviet purges and persecution; Zionist attempts to suppress the language and diasporic culture; and pressures of American assimilationism.

He insists that there is no divide between literature and culture of the Jewish people. "Literature is what's left of the culture," he said. "They didn't have a country, so books became sort of a cultural homeland for Jews." If you save the books, you simultaneously save the history of which they are born.

"It's also just great literature," he said. "It's very fun. It's revolutionary on every level." Thematically, Yiddish books tend to focus on the place of the Jewish people in the modernizing world. With new social constructs rising from the ruins of the old, Jewish writers from all over the Diaspora rose to the challenge of expressing these ineffable cultural struggles and dynamics. Of literature as of the Yiddish language itself, Lansky said, "there is a differentness and outrageousness to it that gives it a very powerful expression."

When I asked Lansky for the name of one (translated) Yiddish book everyone should read, he replied that his personal favorite was Tevye the Dairy Man by Sholem Aleichem, stories of generational conflict in a small Russian village. If this sounds familiar, be warned: "Fiddler on the Roof schmaltzed the whole thing up and made it trite," he chuckled. "The original stories are anything but."
More about the Yiddish Book Center >>