Posted: December 09, 2011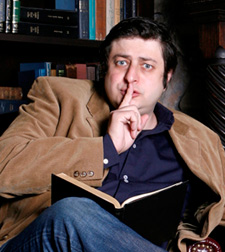 Comedian, writer, filmmaker, and Hampshire College alumnus Eugene Mirman 92F has been selected by the graduating class of 2012 to deliver the keynote address at commencement.

Commencement will be held on May 19, 2012, at 11 a.m. on the Harold F. Johnson Library Lawn.

The keynote speaker at Hampshire's commencement is chosen each year through a vote by the graduating class.

Mirman has his own half-hour special on Comedy Central and has appeared on Late Night with Conan O'Brien, Last Call with Carson Daly, John Oliver's New York Stand Up Show, and Comedy Central's Premium Blend.

He has had memorable recurring roles on HBO's Flight of the Conchords, Cartoon Network's Home Movies, and Adult Swim's live action series Delocated.

His third album, God is a Twelve-Year-Old Boy with Asperger's, is available through Sub Pop Records. He is also an author, having recently published The Will To Whatevs, a parody of a self-help guide to modern life, for Harper Collins.

Mirman has appeared at the HBO U.S. Comedy Arts Festival in Aspen, the Montreal Just For Laughs Festival, Bumbershoot, and South By Southwest. He has performed as part of Patton Oswalt's Comedians of Comedy, and has toured with Yo La Tengo, Modest Mouse, The Shins, Cake, and John Wesley Harding.

He covered the U.N. Climate Change Conference in Copenhagen for Grist.org and produced the third annual Eugene Mirman Comedy Festival, the first-ever ironic and sincere comedy festival.