Friday, January 6, 2012
The tables have turned for Roberta Uno 75F. After decades seeking grants to help fund her nonprofit New WORLD Theater, she now works for the Ford Foundation, dispensing funds to arts organizations that support cultural diversity and public participation.

"I initially thought it would be a big shift from raising money to giving money," Uno said. "But while this is a job of enormous privilege, and it carries the power to support, validate, convene, and build knowledge, at the end of the day, I'm still raising money for the arts."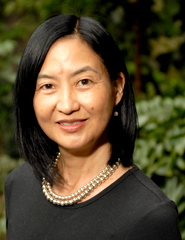 Uno's career could have been different; as a Hampshire student she concentrated in medicine. She describes her Division III (senior) project as "medical sociology, a pre-med equivalent." She studied socialized medicine on-site in Mexico, working with a committee of Five College professors.

She also studied creative writing. She wrote a play, In The Rock Garden, which was produced at Hampshire, Smith College, and University of Massachusetts Amherst. At graduation, she gave herself a one-year deadline to make a living in the arts, rather than pursuing medicine.

 "I took a temporary job at UMass, working in the student activities office, programming for culturally diverse organizations," Uno said. "UMass had a free, open space that didn't belong to any academic department." That space became the venue for New WORLD Theater.

Uno worked as New WORLD founder and artistic director for 23 years, helping to cultivate its strong national reputation. She left in 2002, turning her years of experience with the nonprofit into her current position at the Ford Foundation, an organization she had become familiar with during her time with New WORLD.

"To go from being the leader of my own project to be within a very large learning community was a fantastic, refreshing change," she said.

"We're looking at arts organizations that are actively engaged in artistic discussion, rigorous exploration, actually generating art. Then we're also looking at the issue of diversity and participation. Is the work engaging with the changing demographic of the United States? What is the composition of their board and staff?"

Hampshire's hands-on, participatory education model was an influence on her subsequent career: "I think that I'm just a person who learned through my eyes, my ears, and my hands," she said. "Actually being there and doing was the right way for me to pursue what I wanted to learn."