Tuesday, January 17, 2012
The Radical Camera—selected as the 2011 New England Book Festival's photography/art winner and named by Art in America magazine as one of the top 12 books published in 2011—contains work by two Hampshire College professors:

The exhibition for which the book serves as catalog contains three photographs by the late Jerome Liebling, founder of Hampshire's outstanding film, photography, and video program. That show, "The Radical Camera: New York's Photo League, 1936-1951," opened November 4 and runs through March 25 at The Jewish Museum in New York City.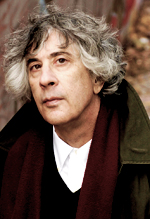 Literary journalism professor Michael Lesy, who writes extensively on documentary photography and historical photographs, contributed an essay to the book, The Radical Camera, by Mason Klein and Catherine Evans. Klein is curator at The Jewish Museum and Evans is photography curator at the Columbus Museum of Art in Ohio.

Liebling's photographs in the exhibition and book are May Day, New York, 1948; Butterfly Boy, New York, 1949; and Bahamian Migrant Worker 1953.
Lesy's essay, "Paper World," discusses the world of stories and pictures published in mass circulation magazines, tabloids, and newspapers. It is the world in which Photo League members lived and worked, with the thought that they could change the content of "the news." The piece ends with "Look" and "Life" magazines.

Active from 1936 to 1951, the Photo League was an organization formed by young photographers who captured images of everyday life on the vibrant streets of New York City. The Radical Camera "explores the fascinating blend of aesthetics and social activism at the heart of the Photo League," with images offering strong social commentary "on issues of class, child labor, and opportunity." Photo League artists had enormous influence on modern photography.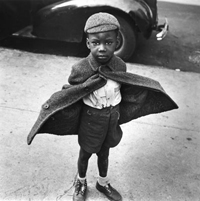 Time magazine has posted an online slideshow of 18 images from the exhibition, including Liebling's Butterfly Boy (image 18). View >>

Exhibition information >>

Book information >>

Exhibition artist's page for Jerome Liebling >>