Wednesday, January 18, 2012
Debra Caplan 03F is a perfect example of how Hampshire grads carve out space for themselves in the world of academia. In her continuing work with Yiddish theater, she is a Ph.D. candidate in the Yiddish studies program at Harvard University, the assistant director for Harvard's Mellon School of Theater and Performance Research, and an adjunct instructor of theater studies at Emerson College. She also has a couple of productions of adapted Yiddish plays under her belt.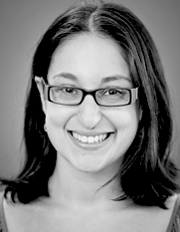 Her forthcoming publications include an article in the collection The Legacy of Yiddish Women Writers and a chapter in the Encyclopedia of Greek Tragedy. Her chapter in the Encyclopedia grew out of her article, "Oedipus Shmedipus: Ancient Greek Drama on the Modern Yiddish Stage," in the journal Comparative Drama. Her Ph.D. dissertation explores the role of the Vilna Troupe, a Yiddish theater company, in the "the establishment of a global Yiddish art theater movement."

Her career shows that a Hampshire-style interdisciplinary focus translates to an array of areas of expertise. Caplan has taught theater history, Yiddish, comparative literature, and Jewish literature and culture at Harvard, Emerson, Hebrew College, and the Boston Workmen's Circle. She has written on the history of Jews in America, and lectured on gender and literature-to-performance adaptation.

She says Hampshire was "the perfect place for me to explore my interests on my own terms." The College's close relationship with the National Yiddish Book Center played a vital role in this exploration. So did Associate Professor of American Literature and Jewish Studies Rachel Rubinstein.

Caplan came to Hampshire with an established interest in theater, but Rubinstein's Yiddish literature and culture class, and a work-study position at the Book Center, led her to a new passion. "I immediately fell in love with Yiddish literature," she says. "It was a natural progression for me to become interested in the Yiddish theater."

That only about one percent of Yiddish writing has been translated also attracted Caplan. "There is so much important work on key playwrights, actors, directors, and theater companies that is yet to be done," she says. "You're always finding something new and unexplored."

As Caplan continues to explore Yiddish theater, she says she maintains informal ties with the Center, and brings her own students there. "I always visit when I'm back in Amherst," she adds.