Tuesday, January 24, 2012
Namgyal Norbu's experience growing up in Tibetan refugee camps in India revealed the threat faced by her native language, influencing her to concentrate on linguistic and pedagogical elements of language acquisition, and to engage in language education as a form of activism.

Generation by generation, the Tibetan language is becoming more endangered. "The Chinese government is trying to keep Tibetan as a minority language even though it is a native language. It should be the first language in its own country," says Norbu. "My primary concern is the gradual erosion of Tibetan language among Tibetans both in Tibet and in exile. Since commercial and official works are conducted either in Chinese (inside Tibet) or in Hindi and English (in India and the West), there is less and less incentive to learn Tibetan language among the young Tibetans." By working to revolutionize the educational system used to teach Tibetan, Norbu hopes to help preserve the language.

Norbu, who speaks Tibetan, Hindi, English, and some Nepali, studied at the Central University of Tibetan studies before coming to Hampshire. At Hampshire, her academic passions came alive immediately. "It was a totally different school setting for me, but it was also very challenging and rewarding. It gave me room for self-exploration, creativity, and responsibility," she says.

When Norbu came to Hampshire through the College's Tibetan Studies Program, she immediately began to synthesize her interest in linguistics with her determination to make the Tibetan language more approachable, delving into research work with a team of linguists with the Five College consortium. As a research assistant, she became more interested in modern linguistics. She took many classes on linguistics and education at all of the five colleges. "It opened my eyes to be exploring modes of modern education throughout all these different schools. I could incorporate these five different educational perspectives for my area of study," she says.

Norbu taught the language to Tibetan American high school and middle school students, for a Tibetan cultural summer camp in New York, and for the Tibetan Medical Institute, a four-year degree program for American Buddhists interested in studying Tibetan medicine and language.

This exposure informed her Division III (senior) project, titled "Using Linguistic Principles to Improve Teaching of Tibetan Language." It is no mere academic exercise, but a comprehensive guide to revolutionizing a system of education. "Here I look at how the techniques of teaching Tibetan grammar could be improved through applying tools and concepts in modern linguistics. There is also a need to present Tibetan grammar in a more modern and accessible manner so that joy in learning is maintained," states Norbu.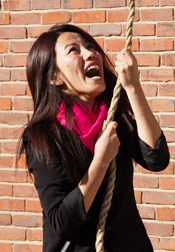 Norbu experienced personal as well as intellectual growth during her time at Hampshire. "I've met many international students here, and because of that exposure my cross-cultural understanding and sense of global oneness has expanded," she recalls. "I grew up in a small refugee community in India. It's amazing to have this kind of diversity at Hampshire. It's like meeting all the delegates from different countries."

Now that all her academic work is completed, Norbu is leaving Hampshire College before the spring semester. "I feel proud and excited to have graduated from such an esteemed college, and at the same time, there are so many things I will miss," she says. "Hampshire has given me so much, and I can't thank enough."

After leaving Hampshire, Norbu hopes to expand more on the subject of her Division III project.

"There is more and more recognition of the challenge to preserve Tibetan language and efforts are made by various individuals and organizations to improve the teaching, revitalization and dissemination of Tibetan language," she says. "I hope that my research is going to contribute to that and become another resource to explore and build on."

(Photos by Professor Susan Darlington)