Friday, January 27, 2012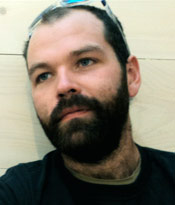 When Christopher Westhoff 01F enrolled in Hampshire College, he was "looking for something different." What he found was a passion for the arts that he has carried ever since.

Westhoff manages Mad River Theater Works, a nonprofit theater company based in Ohio. For 26 years, Mad River has made plays featuring original stories and music. "The plays are folk tales. Often times they come from history, many times they're based on true stories," Westhoff says. "They are designed to travel. We reach around 75,000 kids a year. "

"I wear many hats," Westhoff says of his job. His primary responsibilities include implementing grants and corporate sponsorships, managing the organization's tours, and acting as a cast member in some plays.

"Interdisciplinary," is how Westhoff describes his Hampshire education. Working at a job with a diverse set of tasks, Westhoff says he feels unintimidated. "I feel well prepared. I didn't study bookkeeping at Hampshire, but now that's one of my tasks and I feel enabled. The correlation between my education and my job is striking to me."

Westhoff points to an internship at the Massachusetts Museum of Contemporary Art (Mass MOCA) as being influential to his career path.

"That internship was an experience that really tied me, and kept me tied after college, to the arts." He says. "It was a really influential piece of my education. It set the bar pretty high."

Westhoff's Division III (senior) project focused on the lives of three men in nearby Holyoke, Massachusetts. "I identified three men from three different generations, who lived and worked in Holyoke their entire lives. I hung out with them and recorded our conversations," he says. "They all represented something different about working class people, I was really trying to understand that more."

Westhoff compiled his footage of the men into a 40-minute video telling their story. The film became as much a story of the city of Holyoke as the story of the men. "I had a big map of Holyoke on the wall of my studio, and I would go to the locations they mentioned and shoot video of the locations," he says. "I filmed the bridges that ran over the canals, the corners where they hung out."

Professor Robert Seydel was an important influence on Westhoff's future work. "He was amazing, so giving of his time, energy and spirit. He introduced me to a lot of ideas," Westhoff says. "He was able to point to examples in art that gave it context. They're lessons and ideas that live with me everyday."