Tuesday, January 31, 2012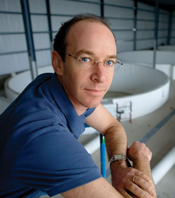 Josh Goldman 81F, founder and CEO of Australis Aquaculture, will speak at Hampshire College on Monday, February 6, at 7 p.m. in Franklin Patterson Hall (Main Lecture Hall). His talk is free and open to the public.

An internationally recognized leader in the sustainable seafood movement, Goldman began working on innovative approaches to aquaculture as a Hampshire College student.
He holds several patents on water re-use technologies and has served on government and industry panels for the National Marine Fisheries Service, the U.S. Department of Agriculture, and the Seafood Choices Alliance. Headquartered in Turner's Falls, Australis is the world's largest and only vertically-integrated barramundi producer. Barramundi, with an eco-friendly profile, has been called "the perfect fish for a changing world."

Hampshire College Presidential Lecture Series

Beginning with Goldman, Hampshire is hosting a series of public talks by innovative thinkers and leaders in diverse fields throughout the spring semester. National experts, including college alumni, will lecture on trends in higher education and topics such as technology, sustainability, the humanities, arts, and social sciences.

Through this Presidential Lecture Series and other events on campus, Hampshire is examining challenges facing the world today and the College's role in producing innovative thinkers and leaders for the future. These events will also build toward the April 27 inauguration of President Jonathan Lash, which is being built around the theme "Educating for Change: Critical Thinking in a Critical Time." That day's events will feature speeches by President Lash and by former U.S. vice president Al Gore.

More Presidential Lecture Series Speakers

February 7, 5:30 p.m., Main Lecture Hall (Franklin Patterson) — Hod Lipson, associate professor of mechanical & aerospace engineering and computing & information science at Cornell University. This talk is entitled "Science and Art in a Post-Singularity Age."
More on Hod Lipson >>

February 21, 4 p.m., Main Lecture Hall (Franklin Patterson) — Panel discussion, "Rethinking the Human Prospect: A Panel on History, Art, and the Humanities" with Ken Burns 71F, director and producer of acclaimed documentary films; Christopher Benfey, Andrew W. Mellon Professor of English and acting dean of faculty at Mount Holyoke College; and Eve Blau, adjunct professor of the history of urban form at the Harvard University Graduate School of Design.

March 7, 7:30 p.m., Main Lecture Hall (Franklin Patterson) — Edward Humes 75F, Pulitzer prize-winning writer and author of 11 nonfiction books. His latest book is Force of Nature: The Unlikely Story of Wal-Mart's Green Revolution.

March 13, 7:30 p.m., Main Stage (Emily Dickinson Hall) — Staged reading with David Budbill, freelance writer, lecturer, children's book author, poet and playwright.

Additional information and additional speakers in this series will be posted to the College website throughout the semester.