Monday, February 6, 2012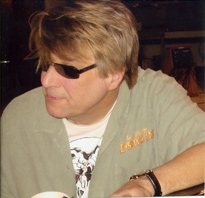 Christopher Young 73F points to a fateful moment on Boylston Street in Boston that shaped his career.

Having completed his first year at Hampshire College, Young was taking a summer course in jazz drumming at Berklee College of Music. "A professor whose work I really admired told me I wouldn't be able to cut it as a professional drummer," he says.
"I was walking down Boylston Street in tears, asking myself 'What's going to happen?' At the same moment, pitched musical ideas started to come into my head. I became obsessed with writing for orchestra."

Seeing an opportunity, Young began pursuing composition in earnest. He spent the remainder of his Hampshire College education writing and collaborating with both instrumentalists and vocal ensembles. His Division III (senior) project culminated in a concert at Hampshire's Red Barn.

"I put together some of the things I wrote in a concept suite. It was meant to represent a day in a carnival," he says. "I coerced every musician at Hampshire to participate in it. I loved the interaction I had with them on campus. My Division III concert was one of those bright, bright moments in my life."

The community-oriented atmosphere on the Hampshire campus meant Young was able to collaborate freely with other musicians. He described his classmates as "extraordinarily gifted people."

After graduating, Young earned a master's degree at the University of California, Los Angeles, where he won both the Henry Mancini Award for film composing and the Frank Sinatra Award for jazz big band arranging. Under the tutelage of film composer David Raksin (Laura, The Bad and the Beautiful), he "slowly but surely" worked his way into the film industry.

Young, who has been nominated for Emmy and Golden Globe awards, has composed for more than 100 films, including Wonder Boys and The Shipping News. His most recent work was The Rum Diary, a film based on the Hunter S. Thompson novel and starring Johnny Depp. He also teaches in the graduate film scoring program at the University of Southern California.

Young encourages and works to cultivate the talents of aspiring composers. In 2011, he signed a gift agreement for $60,000 over three years that will be used for renovations in Hampshire's Music and Dance Building. A key goal of the gift is to provide more individual and group practice spaces, as well as more storage space for instruments.