Tuesday, February 21, 2012
Two Hampshire College students showcased their research at a recent psychology conference.

Rebecca Chappell 09F and Ben Franks 08F (right) presented papers at a conference of the Society for Theoretical and Philosophical Psychology.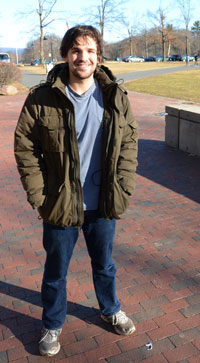 Chappell's paper, "Unlocking the 'Pathogenic Secret," explores the way mental illness is interpreted by the fields of psychotherapy and psychiatry and presented to the United States public. Franks' "Divided and Punctual Selves" discusses perceptions of schizophrenia and awareness of the self.

Clinical psychology professor Peter Gilford, who works with both students, was impressed with their research and pleased to see them earn a spot in a conference that mostly features presenters with at least graduate school credentials.

"Undergraduate students rarely submit papers to such conferences, and it is even less often that they are accepted," said Gilford. "I think their paper submissions were accepted because of their capacity to think critically and theorize their own arguments quite well."

Chappell's paper is a continuation of work she has done for her Division II concentration. For that, Chappell is looking into the medicalization of mental illness, in particular how psychotropic medications are currently used as the primary form of treatment in many cases. Her studies examine issues ranging from the effectiveness of the drugs to their long-term effects on patients. 

"The aim of the essay is to comment on explanations of psychological distress by tracing them from the Enlightenment onward," said Chappell.

Franks' paper is related to his Division III (senior) project, which focuses on schizophrenia and creative writing. His Div III project will include the paper, several short stories, and brief essays associated with the stories.

"Two concepts of self are the main material for it," he said of his paper, noting that the work of psychiatrist R.D. Laing and philosopher Charles Taylor influenced his title. "It's about schizophrenia and reason, the role of reason in the self, and how this affects our perceptions of schizophrenia."

The Society for Theoretical and Philosophical Psychology is Division 24 of the American Psychological Association, and specializes in the philosophical and social foundations of psychology and the social sciences. The ASA's 54 divisions represent the varied interest groups of its members.