Friday, February 24, 2012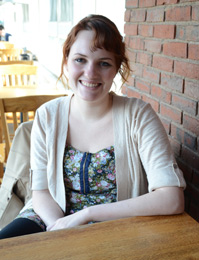 As a teaching assistant in the spring 2012 course Politics and Economics of the Arab Uprisings, Ella Wind 08F brings personal experience to the classroom.

Wind was studying abroad in Damascus, Syria, when uprisings against the government began in January 2011. She stayed until April, aware of the dangers but unwilling to leave a community of new friends and academic acquaintances that she found so important to her understanding of Arabic culture and language.

"I've never seen anyone pick up a language as quickly as Ella. In a way, she came back talking and acting like a Syrian. She was able to really adapt to life there," said Hampshire economics professor Omar Dahi, who is originally from Syria and teaches the Arab Uprisings course with politics professor Sayres Rudy.

In her first year at Hampshire, Wind took Professor Dahi's course South-South Economic Development. It pushed her in a new academic direction.

"I came to Hampshire to study art and languages, but when I took Omar's course I became interested in trade and economics," she said.

Wind took two years of Arabic language studies at Hampshire, and continued to study the Syrian dialect during her year in Damascus. To that passion for language, she added a heavy courseload in economics. In January 2012, while continuing Arabic language studies in Beirut, she published the article "Turkey and Syria: A Breakup Bound to Happen" on Jadaliyya, an independent e-zine from the nonprofit Arab Studies Institute. The article is part of her Division III (senior) project. The project focuses on Syria's political economy over the past 20 years, particularly the shift in emphasis from establishing trade relations with the European Union to building ties with other Middle Eastern countries.

Work such as that earned her acceptance into the Five College accelerated master's program in public policy, which allows students to earn a graduate degree from UMass Amherst a year after completing undergraduate studies.

"I hated math in high school, and I thought I'd never take it again once I graduated. It's funny that I'm doing something that's very mathematical," said Wind. "The freedom to explore at Hampshire let me do things I wouldn't have been interested in if I had been forced to do them."

While she enjoys studying economics, Wind says that pure economics may be limiting to her interests. Instead, she may pursue an advanced degree in political economics or urban planning and development that would allow her to combine several disciplines. With urban planning, for instance, she felt she could "bring art back to what I'm studying."

Economics professor Laurie Nisonoff, Wind's Div III co-chair with Dahi, expects success from her no matter what field she decides to tackle: "Ella's just wonderful. In the classroom, she's always prepared, she's kind to other students, participates beautifully, and gives great presentations," she said. "Ella has also represented Hampshire really well in the Five College consortium."